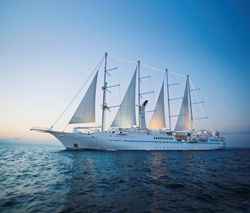 Seattle, WA (PRWEB) August 13, 2015
Windstar Cruises is expanding benefits for returning guests, offering exclusive discounts at partner travel operators and resorts under parent company Xanterra Parks & Resorts.
Windstar cruisers are automatically registered as members of the Windstar Yacht Club following their first sailing, later enjoying special benefits when they book future cruises, amenities while on board, and when they share the Windstar experience with friends and family.
With the new partner program, Yacht Club Membership rewards now include the following discounts:

5% off an Austin Adventures adventure vacation
5% off any guided, self-guided, or private adventure with Country Walkers
5% off any scheduled or private CW Safari
15% off a 1, 2, or 3 bedroom River Suite at Kingsmill Resort, plus a $50.00 resort credit
$200 resort credit per stay at The Cloister or The Lodge at Sea Island
10% off standard rack rates and a complimentary room upgrade at The Broadmoor
5% off any VBT Bicycling or Walking Vacation.
More details on exact offers and restrictions here: http://www.windstarcruises.com/Yacht-Club/Partner-Offers/.
In addition to the above partner offers, Yacht Club Membership includes:

5% savings on most cruise fares
Complimentary one-category standard stateroom or suite upgrade at onboard check-in
Private onboard member cocktail reception
Invitation to dine with the Captain or Ship's Officers
Onboard gifts, discounts, and amenities
$100 referral gift for guest and each referred friend.
For more on the Yacht Club Membership, visit http://www.windstarcruises.com/Yacht-Club/Member-Benefits/.
About Windstar Cruises
Windstar Cruises operates a fleet of small luxury cruise ships known for its intimate, yacht-style experience and unique voyages to the world's best small ports and hidden harbors. Its three recently renovated sailing yachts carry just 148 to 310 guests and cruise to 50 nations, calling at 150 ports throughout Europe, the South Pacific, the Caribbean, and Central America. In May 2014, Windstar launched Star Pride, the first of three newly acquired power yachts. In May 2015 the company launched Star Breeze and Star Legend. The power yachts, with a capacity of 212 guests each, doubled the size of Windstar's fleet, making the company the market leader in small ship cruising with 300 or fewer passengers, with a total of 1,242 berths. Windstar was recently named Condé Nast Traveler's #1 small ship cruise line in the world. For more information including rates and itineraries, contact a travel professional or call Windstar at 800.258.7245, or visit http://www.windstarcruises.com.
About Xanterra Parks and Resorts
Known for its "Legendary Hospitality with a Softer Footprint," Xanterra Parks & Resorts® entities include lodges, restaurants, tours and activities in national and state parks, as well as resorts, a cruise line, railway and tour companies. Xanterra Parks & Resorts has operations in Grand Canyon, Yellowstone, Zion, Crater Lake, Glacier, Rocky Mountain and Petrified Forest National Parks; Mount Rushmore National Memorial; Furnace Creek Resort in Death Valley National Park; and five Ohio State Park Lodges as well as the Geneva Marina at Ohio's Geneva State Park. Xanterra Parks & Resorts also owns and operates Kingsmill Resort in Williamsburg, Va., the Grand Canyon Railway and Hotel in Williams, Ariz., the Grand Hotel in Tusayan, Ariz., Windstar Cruises, VBT Bicycling and Walking Vacations, Country Walkers and Austin Adventures.
###