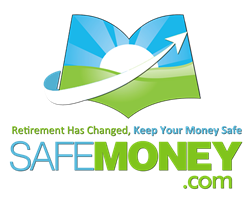 The importance of having a plan for your retirement years truly can't be overstated
Cherry Hill NJ (PRWEB) August 13, 2015
Retirement planning continues to be near the top of Americans' concerns. But many people are not taking steps to secure their future, says Safe Money Resource President Brent Meyer. A recently published blog post on SafeMoney.com makes note of how it affects the retirement landscape.
According to the U.S. Census Bureau's 2012 Supplemental Poverty Measure (issued in November 2013), almost 15 percent of Americans over 65 years old live in poverty. Additional data from the U.S. Census Bureau SPM shows nearly 50 percent live "near poverty," or have an income which is less than twice the poverty threshold. By 2030, nearly one-fifth of the American population will be aged 62 years or older, reports the 2014 Gallup Economy and Personal Finance Survey – the average retirement age in America at present.
"Many Americans aren't prepared when they retire. It's a pressing challenge for retirees, as healthcare expenses and other costs of living rise," Meyer elaborates. "The importance of having a plan for your retirement years truly can't be overstated."
Meyer notes retirement may pose a financial dilemma for future retirees, as well. In its 24th Annual Retirement Confidence Survey report, the Employee Benefit Research Institute reports 60 percent of workers aged 55 years and above have less than $100,000 in savings. Likewise, 24 percent of this working population has less than $1,000 saved for retirement.
The most recent Gallup Economy and Personal Finance Survey, published in April 2015, shows a growing shift in non-retirees' anticipation of using Social Security for income generation. In the survey, 36 percent of American non-retirees report expecting to use Social Security benefits as a primary source of income. That is a 10-point increase in non-retiree income expectations of Social Security from a decade ago.
"Unfortunately, Social Security benefits may not be a guaranteed income source in the future. It's important to evaluate other options for generating retirement income," explained Meyer. "Many retirees and American workers have been looking at alternative retirement vehicles, such as fixed index annuities. These vehicles can offer some investment growth potential, wealth protection, and opportunities for tax deferral."
The rest of the post and what Meyer proposes as other solutions can be found at: http://safemoney.com/blog/146-blog/158-the-importance-of-planning-ahead-for-retirement. As a one-stop center for financial consumer education, SafeMoney.com constantly publishes articles on pressing financial topics. Areas of coverage include annuities, life insurance, long-term care insurance, IRAs, Social Security benefits, retirement income planning, estate planning principles, and more.
Via SafeMoney.com, retirees and working Americans have access to Safe Money Resource's dedicated network of local financial professionals. These persons are independent agents, which means they are not chained to selling financial products from one insurance carrier. On the whole, Safe Money Resource has relationships with 40-plus major insurance companies.
Before making any recommendation to network members, Safe Money Research vigorously researches, evaluates, and analyzes each financial product. This process enables Safe Money Resource's network of independent advisors to offer a diverse selection of financial solutions. More information can be found by visiting http://safemoney.com/.
"We warmly invite investors and their families to use SafeMoney.com for their educational enrichment. It's our goal for every American to feel secure about their retirement," said Meyer. "Don't hesitate to contact us if you need help from a local, independent advisor, either. Or if you have any questions or further requests, feel free to contact us at 877.GROW.SAFE. Our team would be happy to help you however we can!"