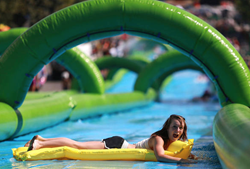 Participants just got a small glimpse of the event when Slide the City came to Decatur in June
Decatur, GA (PRWEB) August 13, 2015
This summer, thousands of sliders have rediscovered their inner child as they slip down 1,000 ft. of slick vinyl. In June, Slide the City Decatur was cut short due to a water main break in the area. Organizers are excited to announce that their waterslide will hit the streets of Decatur again on September 12.
"Participants just got a small glimpse of the event when Slide the City came to Decatur in June. The slide was only open for three hours before we had to shut down," said Slide the City spokeswoman Amy Gessel. "We cannot wait to come back and give Georgians the slide of their lives."
Thousands of participants have experienced Slide the City this summer as the Guinness World Record-breaking slide toured the country. On Monday, additional Single and Triple Slider Passes will be released for the once sold-out Decatur slide. "We are excited that even more sliders will be able to speed down three city blocks at this one-of-a-kind water event," said Gessel.
Sliding starts at 10 a.m. Participants can purchase a Single or Triple Slider Pass online at (http://www.slidethecity.com/events/decatur-ga). Pricing starts at $20.
Those over 5 years of age and at least 46 inches tall are welcome to slide! Visit the Slide the City Facebook to see what fans have to say (https://www.facebook.com/slidethecity) or visit (http://www.slidethecity.com/events/decatur-ga/) for more information about Slide the City Decatur.
About Slide the City™
The first event of its kind, Slide the City™ has seen massive growth since it started in 2014. This original concept went viral when the video was released, and this year promises to be bigger, better and wetter. Slide the City™ is on track to produce more than 100 events in the US and Canada and has entered various other countries around the world. Slide the City™ is a family-friendly event bringing 1,000 feet of padded vinyl onto city streets. This giant three-lane slide travels around the country so people from coast-to-coast can have the slide of their lives!