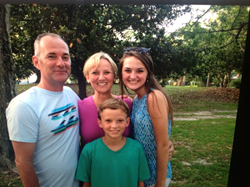 We know Juan's time here with us ... will help shape the man he will become, just as having him as a part of our family will change us for the better.
San Francisco, CA (PRWEB) August 13, 2015
Ayusa International, a non-profit organization that has promoted global learning and leadership through high school student cultural exchanges for more than 34 years, has just over two weeks more to place its international students with a North Carolina host family for the 2015-2016 school year.
Ayusa is looking for host families throughout the entire state, specifically in and around:

New Hanover County: Wilmington, Bolivia
Onslow County: Jacksonville
Brunswick County: Caswell Beach, Oak Island (Long Beach-Yaupon Beach), Bald Head Island, Southport, Boiling Spring Lakes, Southport
Pender County: Willard, Watha, Maple Hill, Atkinson, Burgaw, Currie, Scotts Hill, Surf City
Other communities: Wilson, Fayetteville, Clinton, Smithfield, Dunn, Lillington, Rocky Mount, Louisburg, and Bunn
Ayusa host families who open their home to exchange students contribute to the global community as public diplomats for greater international understanding. Each host family and student creates a lasting relationship that spans the cultural differences between their two nations.
Ayusa works with diverse families who are interested in hosting an international student of high school age. Families without children, empty nesters, military families, retirees, and single people are all welcome. Ayusa families come from all 50 states and reside in rural, suburban and urban communities.
Gregory and Sandra Prayer of Jacksonville expressed their excitement at hosting their exchange student, Chihiro from Japan, and eagerly await her arrival in mid-August. "We decided to be host parents this year to afford a student the opportunity to learn more about our culture, and in return giving us an opportunity to learn about theirs," Sandra said. "We feel the experience will also have a positive influence on our eight-year-old daughter, as she is excited also. Our Ayusa Community Representative has been very helpful in assisting us with the paperwork and answering questions about the program."
Tony and Heather McNeill, pictured along with their children Haley and Ethan, are looking forward to welcoming Juan from Spain to their home in Brunswick County. "We know this will be a rewarding experience, both for our children and the whole family," Heather explained. "Maybe one day our children will want to participate in an exchange program and stay in a foreign country. We know Juan's time here with us and his studies at South Brunswick High School will help shape the man he will become, just as having him as a part of our family will change us for the better."
"North Carolina is a growing destination for Ayusa exchange students in the U.S.," said Jess Hodge, Ayusa Regional Manager for the Southeast. "Our host families are known for their warmth and hospitality in sharing the rich history and traditions of the South," she added. "Hosting an exchange student also allows families to learn about other countries and cultures, without the travel. If you've ever thought about sharing your South Carolina lifestyle with a student from abroad, I encourage you to give us a call, or check out our website to read the many stories of these international friendships that last a lifetime!"
Host families provide the exchange student with three meals a day and a bedroom (private or shared). A professionally trained Ayusa representative supports each host family, student, and local school throughout the program year. Ayusa's exchange students are 15-18 years old and come from more than 60 countries around the world. All students are fully insured, bring their own spending money and are proficient in English.
How to Host an International Student
Interested families can learn more about the program and available exchange students, and request additional information by visiting http://www.ayusa.org or calling 1-888-552-9872.
The process to apply is simple. Families complete the online application, which includes questions about themselves and local high school, references, and a background check. Once the application is submitted, the local Ayusa Community Representative will conduct an in-home interview. They can also help each family with any questions they may have about the application or process.
After families are fully approved, they can select the Ayusa student they would like to host.
About Ayusa
Ayusa International (http://www.ayusa.org) is a 501(c)3 non-profit student exchange organization founded in 1981 and an official U.S. Department of State designated Exchange Visitor Program Sponsor. In addition, Ayusa administers high profile grant programs funded by the U.S. Department of State and other organizations. Ayusa is a sister company of Intrax, a family of organizations that provides a lifetime of high-quality educational, work and volunteer programs that connect people and cultures. Intrax is headquartered in San Francisco with offices on four continents.