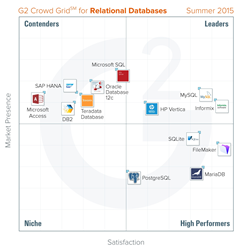 CHICAGO, IL - (PRWEB) August 13, 2015
The first Grid℠ report for relational databases, published today by business software review site G2 Crowd, ranks 13 products to help purchasers in their selections.
MySQL, Informix and HP Vertica were named Leaders in the report, receiving strong customer satisfaction scores with a large market presence. SQLite, FileMaker, MariaDB and PostgreSQL were named High Performers, earning strong customer satisfaction marks with smaller market presence scores. FileMaker earned the highest overall Satisfaction score.
The Grid℠, created from G2 Crowd's software review platform, factors in customer satisfaction reported by users, along with vendor market presence determined from social and public data to rank products. The Fall 2015 report is based on data from roughly 300 reviews written by developers, database administrators and other business professionals.
Relational database software stores business and customer data in a traditional table format, with each piece of data organized into a row and a column. Columns hold the data of a single type or field, like first name, order number, or the image link of a product logo. Rows create the relationship between these data, for example, associating a first name to a last name and then to a user name, email address, and customer ID.
Relational databases have long been the dominant form of data storage. Almost all utilize SQL as their query language, and most adhere to the ACID set of properties to ensure reliable transactions (atomicity, consistency, isolation, and durability).
Of the roughly 60 software vendors listed in G2 Crowd's Relational Database platform category, the ranked products each received 10 or more reviews to qualify for inclusion on the Grid℠.
Across all relational databases, reviewers reported the product they use meets their requirements at an average rate of 87 percent, and on average reviewers said they were 85 percent likely to recommend the product they use.
Performance-related features (e.g. stability, storage) generally received strong scores across all products; however, when users were asked if their product was headed in the right direction, the result was a low 76 percent satisfaction. Below average scores for questions on ease of administration, ease of setup, and quality of support likely factored into this rating. Proprietary and open source products alike were rated poorly.
Some highlights from the relational database reviews on G2 Crowd:
"[MySQL is a] very mature, known and feature-full open-source database with great HA/replication/distributed setup features. Works very stable on single host instances, allows very flexible and easy replication setups (much easier to implement than other popular Open-Source databases, with great flexibility)."

Marek Obuchowicz, system engineering and data architecture consultant at KoreKontrol
"Informix is a great engine. It's fairly straightforward to learn. I have taken [two system admins] and had them be effective at the end of a day of training….As far as being able to take advantage of ALL system resources, Informix can do it. Have seen other [databases] hit limits, but not Informix. Also, the user community is very strong. Those who use Informix are usually very passionate about it and believe in it."

Peter Mayhew, Database Systems Architect at InterCall
"[HP Vertica's] columnar storage makes for fast data access. Lots of storage on fewer nodes. Use of projections is an intuitive way to manage tables and help optimize queries...Comprehensive training allows you to be able to manage and administer the system with ease, using tech support as a last resort."

Joe Gonzalez, Data Warehouse Manager at InsightExpress
"SQLite is a great database for web applications with low write concurrency. It is perfect as an embedded database since it does not require a commercial license."

Rafael Ble, Senior Principal Programmer and Analyst at Skyworks Solutions, Inc.
"You don't have to be or hire a programmer to use your data! FileMaker provides a very user friendly and completely flexible seamless connection to new and existing data sources, including mySQL databases that your legacy programmers might have created as well as its own proprietary data sets."

Dean Suhr, Registry Manager at Genetic Alliance
"[I like that MariaDB is] free, stable, easy to install (with a straightforward setup), can handle replication [and is reliable]...I have used MariaDB for years and i would strongly recommend this product."

Kumaran Balachandran, Sr. Linux Engineer at University of Portland
"[PostgreSQL] supports all the SQL-92 standards, plus some of their own editions. It has a very mature GIS querying and every type of index. It supports in memory [databases] and a ton of different trigger languages. There's no feature or item missing...Use it and you will be happy."

Timothy Spann, Sr. Software Engineer at Security Scorecard
Satisfaction rankings are generated from the user reviews, and market presence is calculated from vendor size, market share, and social impact. Based on a combination of these scores, each software solution is categorized as a Leader, High Performer, Contender, or Niche.
Access to premium research on relational database tools can be purchased on the site for $599. This offers the original data for filtering and weighting, as well as individual profiles of each platform with the most helpful positive and negative relational database software reviews, detailed company information, user satisfaction ratings, feature scores and customer metrics. Future refreshes of the Grid℠ will provide updated rankings based on the latest reviews and social data.
Be sure to check out the new Grid℠ for the best relational databases and subscribe to the premium research.
_______________
About G2 Crowd, Inc.
G2 Crowd, the world's leading business software review platform, leverages its 37,000-plus user reviews to drive better purchasing decisions. Technology buyers, investors, and analysts use the site to compare and select the best software based on peer reviews and synthesized social data. Co-founded by the founder and former executives from SaaS leader BigMachines and backed by roughly $12 million in capital, G2 Crowd aims to bring authenticity and transparency to business technology research. For more information, go to G2Crowd.com.