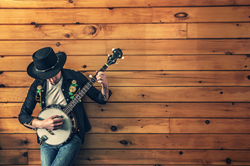 Exemplary Artist in Residence Programs
Greenville, South Carolina (PRWEB) August 16, 2015
Cultural enrichment is a priority for many Baby Boomers looking at South Carolina golf communities. It adds to the overall quality of life and gives folks the option of being entertained right "in their own backyards". Real Estate Scorecard recognizes The Reserve at Lake Keowee in the Upstate for setting the standard for cultural events by offering one of the most impressive calendars of events for its residents with its "artist in residence" programs. Designed as a way to enhance lifelong learning and provide club members on-site lectures, art exhibits and musical performances, the "artist in residence" program took off at this award winning Lake Keowee real estate development.
Each year, the gated community selects an "Artist in Residence" who shares their talent and skillset with the fortunate residents and guests of The Reserve at Lake Keowee. This year, John Thomas Fowler, renowned Appalachian storyteller and mountain musician was selected to perform and provide workshops on the property September 22nd through September 26th. Fowler has over 25 years experience storytelling in the region and is also a song collector, author and radio host in the Carolinas. Growing up with family connections in the Appalachian Mountains, Fowler had direct access to collections of stories and songs that have been passed down for generations and reflect the rich history associated with growing up in the Appalachians. His creative and articulate style incorporates humor, music and some actual characters from the past. In addition to his unique storytelling style, Fowler also incorporates the banjo, guitar and the harmonica in his performances. In 2013, he received the prestigious Jean Laney Harris Folk Heritage Award from the South Carolina General Assembly acknowledging his lifetime achievements as a musician and storyteller. Fowler is a local favorite and provides his talent at festivals, schools, colleges and camps. This year The Reserve of Lake Keowee is honored to have Mr. Fowler as their featured "Artist in Residence".
While at The Reserve at Lake Keowee, Mr. Fowler will be offering two scheduled events:
On Tuesday, September 22, Fowler will present Appalachian storytelling, folklore, and a genealogy at the Founder's Hall 7:30 pm– 9pm.
On Friday September 25, Fowler will perform a high energy concert incorporation harmonic, guitar and banjo playing historic ballads while incorporating his unique "old time" mountain humor.
Last year, The Reserve at Lake Keowee featured Drs. Tony and Marianne Lenti as their 2014 "Artists in Residence" as they performed dually performing the piano and creating works of art. This prestigious couple met while they were attending Eastman School of Music and they enhanced their talent by performing together in Florence Italy. They have toured to 33 states and Europe to showcase their work and the residents truly enjoyed their performances. In 2013, Scott Crawford and Matt Hanewald were the selected "Artists in Residence". Each presented their unique style of artistry and residents were thrilled with the programs they offered.
In addition to being one of the superb South Carolina golf communities in the foothills of the Blue Ridge Mountains, Lake Keowee real estate found at The Reserve at Lake Keowee is unmatched by others in the area. The Reserve has over 300 miles of shoreline on Lake Keowee which is located at the base of the majestic Blue Ridge Mountains which feeds into the lake and makes it one of the purest lakes in the region. The community spreads across 3,900 acres and boasts over $100 million dollars of family amenities. Golfers can enjoy a round of golf while viewing the magnificent scenery found here on its 18-Hole Championship Golf Course designed by Jack Nicklaus. In 2015, the BMW Charity Pro-Am was hosted here. There is also an impressive 20,000 square foot hilltop golf clubhouse, The Orchard House offers exquisite dining with beautiful views of Lake Keowee and the Croquet Lawn. With year round mild weather and 1,400 acres of protected green space outdoor activities abound, it's one of the prettiest places to live in the Upstate.
The gated community also features:
24 Hour Manned Gated Entrance
Lakefront Pool Complex & Grill
Resort-style Outdoor Swimming Pool
Four Lighted Har-Tru Tennis Courts
Fitness Center
5 1/2 Miles Walking Trails
Community Parks and Dog Park
Great Lawn
200 Boat Slips and Marina
Village Market
Founders Hall
Legacy Program (Since 2010, parents, grandparents, children and grandchildren of property owners can enjoy the benefits of membership with The Reserve' Legacy Program)
Active seniors and families of all ages will find plenty of things to do at The Reserve at Lake Keowee. Whether it's working out, playing tennis, or simply enjoying the neighborhood on the 5 and half miles of hiking trails, the Lake Keowee real estate development has it all.
Take a peek at The Reserve at Lake Keowee homes
For convenience, the property has The Village Market which has groceries, a fresh deli and unique gifts. Musical events and art exhibits are held at Founders Hall and encourage an active social scene for residents. The Great Lawn provides picturesque rolling greens that lead to the lake and provides the perfect setting for outdoor concerts and community events that take place here annually. For boaters, there is a private 200 slip marina and 19 piers offering rentals and fuel. Lake Keowee is named one of the Best Boating Lakes by Links Magazine and also home to large mouth and spotted bass which makes it a destination place for ambitious anglers.
The Reserve at Lake Keowee is definitely setting the trend in retirement living and is recognized nationally as one of the best South Carolina golf communities. With enriching social events like the "artist in residence programs" available to its club members, it's no wonder sophisticated Boomers are flocking to this prime Lake Keowee real estate development.
To attend the event and tour the community, call The Reserve at Lake Keowee direct at 877-922-5253.
About Real Estate Scorecard:
Real Estate Scorecard writes unbiased real estate reviews providing in-depth information about popular gated communities in Florida, Georgia, the Carolinas, Tennessee and Central America, all in an effort to help people discover where to retire in the South.
Website: http://realestatescorecard.com