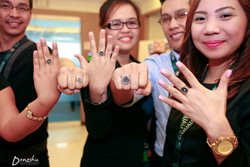 Anyone who works in a call center knows that the supervisor plays a critical role in the performance of the center. We are working hard to do everything we can to help our supervisors succeed.
(PRWEB) August 17, 2015
Qualfon, a people-driven business process outsourcing (BPO) company and global provider of contact center services, actively invests in the development of all company leadership and over the past several months has awarded Leadership Academy graduation certificates to 432 supervisors. Through Qualfon's Leadership Academy, every supervisor is required to complete 19 management courses. As part of the training, supervisors also attain green belt certification through the International Six Sigma Institute, an independent certification company. The Qualfon Leadership Academy is a company-wide initiative to develop leaders at all levels. It aligns those in leadership roles with Qualfon's company mission enabling them to motivate and develop employees while effectively utilizing data-driven problem solving methodologies to proactively manage their responsibilities.
Investing closer to clients and customers: benefits of Leadership Academy
Qualfon supervisors oversee contact center agents, who directly serve customers. Qualfon is investing in leadership closer to the customer allowing those investments to have maximum impact to quality, cost and speed.

Sustainable Improvements: Supervisors that graduate from the Leadership Academy are more effective at leading teams to consistently achieve key performance indicators ensuring a great customer experience. This helps improve employee satisfaction, retention and even volunteerism among employees. The result is high-quality performance, reduced volatility and a continual focus on improvement for client programs.
Highly Competitive Costs: The investment in effective leadership at a local level reduces the need for multiple layers of upper-level management. Together with the stated impact on retention, operations are more cost-efficient and this is passed on to clients.
Thoughtfully Proactive and Decisively Reactive: Change is inevitable. Strong leadership skills increase organizational speed and flexibility, enabling Qualfon to better service clients and their customers. Leadership Academy builds ownership and improves decision-making on the frontline.
And to ensure Qualfon is proactively building a leadership culture, Qualfon's contact center agents who meet the necessary performance and aptitude criteria begin training well before they take on supervisor responsibilities. This ensures that agents are prepared for promotions affording Qualfon the talent needed for scalable, sustainable leadership.
"Anyone who works in a call center knows that the supervisor plays a critical role in the performance of the center. We are working hard to do everything we can to help our supervisors succeed. That is the purpose of our Leadership Academy," said Mike Marrow, CEO, Qualfon.
"This program really sets Qualfon apart," said Kathy Flowers, Corporate Director of Learning & Development at Qualfon, who oversees the Leadership Academy program. "To my knowledge, no other BPO has established this Six Sigma requirement for supervisors or taken this type of across-the-board pledge to quality and process excellence."
Clients see the difference in Qualfon supervisors after Leadership Academy and Six Sigma certification. Flowers explained, "After graduating, our supervisors take a new level of responsibility and ownership for their work. As a result, clients realize direct improvements in employee engagement, absenteeism, occupancy and performance. In Mexico, one of our clients came to us and asked what we were doing with our leaders because they quickly recognized the use of Six Sigma practices and enhancements in their leadership style."
Leadership Academy is designed to provide leaders with practical skills they need to be effective mentors, managers, messengers and stewards of service quality. It offers a variety of courses both online and in traditional classroom settings. The certification program includes foundational leadership courses such as leadership and coaching, communication styles and contact center metrics. Advanced courses such as project management, conflict resolution and client management are pre-requisites for the Six Sigma certification, which culminates the program. For each leadership position, Qualfon tailors a list of required courses specific to their individual roles and responsibilities.
About Qualfon
Qualfon is a people-driven business process outsourcing (BPO) company and a global provider of contact center services and back-office processing. With experienced BPO leadership and a strong track record of business growth dating back to our founding in 1995, Qualfon helps companies reduce costs and deliver superior customer experiences. Today, we have 11,000 employees serving international brands across many industries, and our intelligent outsourcing locations span the United States, the Philippines, Guyana S.A., and Mexico. Qualfon's mission to "Be the Best BPO, Make People's Lives Better" means we invest in our people and, in return, they take better care of you and your customers. Qualfon's employee retention is twice the industry average, which creates a people-driven value chain: Our employees stay longer, providing you a higher quality service at a lower price. http://www.Qualfon.com