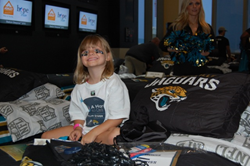 Even with all of the activities going on, the main event is the moment these amazing 100 children realize they we are giving them a bed of their own. You just have to watch their faces.
Jacksonville, FL (PRWEB) August 14, 2015
The Jacksonville Jaguars and Ashley HomeStore hosted the third annual Stadium Sleepover on Friday, August 7th at EverBank Field. Through it's Hope to Dream program 100 underserved children from around the First Coast enjoyed an unforgettable sleepover experience inside the Jaguars stadium and were surprised to learn that the beds they were sleeping on were being delivered to their homes the next day. The children were all eligible for Ashley's Hope to Dream program, which provides free beds to children in need – over 25,000 since the Jacksonville, FL HomeStores launched the program five years ago. Many of the recipients were recommended from local, child serving organizations, including Tom Coughlin's Jay Fund, Zane Beadles Foundation, Family Promise, Salvation Army and Habitat for Humanity.
Coach Gus Bradley and his wife Michaela were on hand to host the event, along with Jaguars players, the ROAR and Mascot Jaxson de Ville. "The partnership with Ashley HomeStore is incredible," said Coach Bradley. "The commitment they have made to this community is invaluable and it's amazing to watch all of their hard work pay off. The Stadium Sleepover is one of my favorite events because Ashley is helping to change these kids' lives. It's a great evening to be a part of."
Ashley-Jacksonville CEO, Howard Fineman, announced at a press conference on Friday that the Jaguars and Ashley had reached another multi-year partnership agreement to continue their charitable efforts, donate more beds to children in need and keep celebrating the impact of the Stadium Sleepover . Fineman reported that several other NFL teams have joined in on the momentum by holding their own Stadium Sleepover with Ashley HomeStores in their respective NFL cities this year, including the Dallas Cowboys, with more in development for 2016.
"The excitement and energy of the event is almost indescribable," said Fineman. "Even with all of the activities going on, the main event is the moment these amazing 100 children realize they we are giving them a bed of their own. You just have to watch their faces. It's a life changing moment and they know it. They will be healthier, happier and have more focus…not only now having a place to sleep, but also a place to dream. We couldn't be prouder that the Jacksonville Jaguars choose to partner with us and that together we continue to pay it forward through servant leadership - not only in our hometown of Jacksonville, Florida, but also around the nation."
In addition to dinner featuring BUBBA BURGER, Stadium Sleepover guests enjoyed activities, including stadium tours, games, a ROAR dance party and the thrill of watching a movie on the giant stadium scoreboard with popcorn and treats donated by Peterbrooke Chocolatier. Ashley HomeStore team members also volunteer their time for the event, as well as FLORIDA BLUE volunteers, whose team, for the second year in a row, has played a critical part in the set up of the 100 beds.
Last August, Ashley HomeStores held their Stadium Sleepover in conjunction with the Jacksonville Jaguars at both EverBank Field in Jacksonville, FL, as well as at the famed Wembley Stadium in London.
A portion of the proceeds from every mattress purchase at local Ashley HomeStores benefits local children in need. Families in need of beds for children ages 3-16 should complete nomination forms in any local Ashley HomeStore showroom or online at http://www.ahopetodream.com.
Ashley HomeStore is the #1 furniture and mattress retailer in America and the #1 selling furniture store brand in the World. Ashley HomeStores has four locations in Jacksonville, Florida (St. Johns Town Center, River City Marketplace, Orange Park @ I-295, and at Glynn Isles Market (Brunswick GA)). The retailer is an exclusive provider of furniture from Ashley Furniture Industries, Inc. (Ashley), the largest furniture manufacturer in North America. For more information on Ashley HomeStore and our products, visit our website at http://www.AshleyFurnitureHomeStore.com.