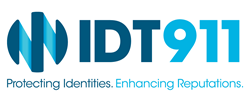 SCOTTSDALE, Ariz. (PRWEB) August 18, 2015
The sensitive information of high-net-worth individuals is under constant assault. The effects of a personal breach can be devastating. Sophisticated thieves can gain access to financial data, medical information, intellectual property, and other private data through an individual's hacked WiFi network or improperly secured cyber-connected appliance, electronic or mobile device; a careless social media post by their teenager; or misappropriation by a member of their inner circle or a household employee. The results can be costly, time-consuming, and have reputational repercussions.
"A home computer network is hacked, student documents are lost while your client's son or daughter is traveling abroad, or a house manager account is compromised. These are all unique ways high-value individuals are at-risk for identity theft," said Matt Cullina, CEO, IDT911™. "With multiple employees or personal staff having access to sensitive information, your best customers are facing a greater chance of becoming an identity theft victim. High-value individuals need a concierge cyber risk and identity protection service to keep them, their family members, and their assets safe."
Through its high-touch B2B model, IDT911 now offers the first cyber coverage of its kind to combat the effects of a personal breach. Called CyberEliteSuite™, the concierge-level household breach protection and response service will offer companies that provide coverage to the high-net-worth market a new dimension of protection for their clientele. It is perfect for banks, credit unions, corporate employers, insurance companies, investment firms, and financial advisors, private client brokers, and family office management firms to offer their clients and employees.
CyberEliteSuite is a white glove service that offers a unique approach to identity, reputation, breach management and remediation. Customers will have access to personalized expert security guidance around the clock. By offering CyberEliteSuite, providers are able to offer a first of its kind service not available anywhere else and can strengthen customer bonds and create new revenue streams.
A partnership with IDT911 allows businesses to deliver a superior product to their preferred customers, including enhanced brand image, a unique competitive advantage, client acquisition, retention and re-engagement, and revenue potential. To learn more about the unique concierge service IDT911 can offer your clients, visit us at http://www.idt911.com/products/cyberelitesuite.
About IDT911™
IDT911™ is the leading provider of services that help businesses and their customers defend against data breaches and identity theft. IDT911's unique approach—delivering proactive protection, preventive education, and swift resolution—offers unrivaled support for more than 660 client partners and 17.5 million households. With its wholly owned subsidiary, IDT911 Consulting™, IDT911 delivers information security and data privacy expertise to help businesses avert and respond to data loss. Based in Scottsdale, Ariz., the company has several locations in the U.S. and Canada, as well as in Ireland to serve partners in Europe.