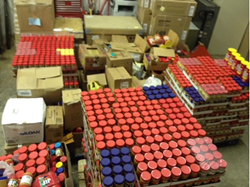 The impact this donation will make to improve the nutrition in the Thomazeau region is immeasurable.
NASHVILLE, Tenn. (PRWEB) August 13, 2015
The Christian Student Center at the University of North Alabama (UNA) in Florence, Alabama, gathered more than 8,700 jars of peanut butter with the help of local churches to benefit LiveBeyond, a non-profit humanitarian organization based in Haiti. It is estimated the collection will feed more than 150,000 malnourished Haitian children.
"Since the Haitian's daily meal of rice is an inadequate source of protein, peanut butter is used as a quality supplement," said Harry Hames, LiveBeyond's government relations manager. "Unfortunately, a large jar of peanut butter costs more than $15 in Haiti. This donation will be critical to providing essential nutrition to the Haitian children."
In Thomazeau, Haiti, 41 percent of children are underweight. Malnutrition is the No. 1 cause of death in the country. Peanut butter is one of the most effective tools to counteract the effects of malnourishment on children because it provides them with the protein, fiber and healthy fats missing from their diets.
"The impact this donation will make to improve nutrition in the Thomazeau region is immeasurable," said Dr. David Vanderpool, CEO and founder of LiveBeyond, who leads the organization's efforts on the ground in Haiti. "A jar of peanut butter may not seem like much in the U.S., but here in Haiti, it can mean the difference between life and death."
More than 30 local churches across Tennessee and Alabama participated in the drive. The congregation at Pulaski Street Church of Christ in Lawrenceburg, Tennessee, donated 2,300 jars alone.
The peanut butter is currently being stored in the LiveBeyond warehouse in Nashville, Tennessee, and will be shipped to Haiti within the next month.
This is the third year the UNA Christian Student Center has organized a drive for the kids in Haiti under the leadership of Director Danny Pettus, who resigned this year to devote to fulltime preaching. In honor of his dedication, the drive has since been named "The Danny Pettus Peanut Drive for Starving Children."
LiveBeyond is a faith-based, humanitarian organization improving lives of the poor in Thomazeau, Haiti, with sustainable solutions in medical and maternal health care, clean water, education, and agricultural and economic development. For more information, visit http://www.livebeyond.org.
-30-