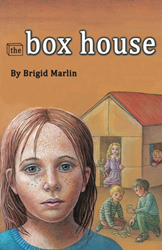 This book is a joy, a bona fide page-turner and must-read for teens and for all parents and other adults devoted to understanding the unspoken yearnings of children in crisis.
New York, New York (PRWEB) August 25, 2015
In The Box House, author Brigid Marlin tells the story of a young girl she met in a small English town in the 1960s. Although badly neglected and abused by her mother, eight-year-old "Cassie" is a strong and courageous child who is determined to make a proper home for her younger siblings. The box house referenced in the title is literally that — a house made of cardboard boxes. It's a place where Cassie and her siblings find comfort and refuge from their real lives, if only for a few hours at a time. As described by one reviewer:
"Ms. Marlin's cinematic portrayal of violence and betrayal of trust, and of one child's resilience, reveals youthful stoicism and terrifying realities rarely seen in young adult works. The author insistently details the profound effect of adults' treatment of children over time, and the perils of passivity. The systemic, utter failings of family, school and government safeguards during this period in the history of the United Kingdom as well as of the United States, loom large. Given recent revelations surrounding the global trafficking of children, Cassie's true story takes on new dimensions today."
See full review at the Boissevain Books Blog.
The Box House was published by Boissevain Books with Infinity Publishing and is available on Amazon.com in both print and e-book formats. http://amzn.com/1495804348
About the Author
The Box House is Brigid Marlin's third book. She previously authored "A Meaning for Danny" (2012 Infinity Publishing/Boissevain Books), recounting her son's struggle with Aspergers, and "From East to West: Awakening to a Spiritual Search" (1989 Fount). Brigid, who resides in England, is also known as an artist whose work is in the National Portrait Gallery in London and in museums and collections throughout the world. She is the Founder and Director of the Society for Art of Imagination. Brigid has also illustrated a number of books including "King Oberon's Forest" written by her mother, Hilda van Stockum, the famed children's book author and illustrator.