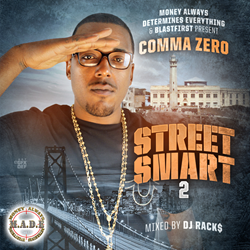 San Francisco, CA (PRWEB) August 13, 2015
Coast 2 Coast Mixtapes presents the release of the "Boss" Music Video by Comma Zero. The new visual project is currently available to view on the Coast 2 Coast Mixtapes website. "Boss" was Directed and Edited by M-A-T of Doin' Me Ent.
Money always determines everything, whether in abundance or a lack thereof is the motto of M.A.D.E. Entertainment co-founder and recording artist Keith Bynum, also known as Comma Zero. He hails from San Francisco, a city flooded with rappers and independent labels over the years. Known as Sucka Free City, San Francisco hasn't had much national mainstream success, but Comma Zero plans to change that. He aspires to join the ranks of legendary East Bay artists such as E-40, Too Short, Mac Dre and New Orleans transplant Master P.
Comma Zero grew up in the Fillmore district of San Francisco. The common struggles of growing up in the inner city plagued his childhood, but he was surrounded by a large loving family. He and his two younger sisters were fortunate to have both parents in their household, which was an anomaly in his neighborhood. In his early years, he witnessed his parents struggle to provide a stable home environment for he and his sisters, and attests that to his strong work ethic. The love and support of his extended family, including grandparents and a host of aunts, uncles and cousins kept him on a straight path in his early formative years. However, over time the lure of the street life won him over and he dropped out of school. As he continued to make money, it began to lose it's value when placed against the loss of friends and with his freedom in jeopardy. Not wanting to end up on the wrong side of the law, Comma Zero decided to return to school and get his GED and later opted to pursue an Associates degree in engineering.
Upon cutting ties with the streets and finding comfort in his position as a union iron-worker, Common Zero began rekindling aspirations of rapping. Music stayed close to his heart and fully surfaced when his younger cousin Brandon also known as BlackCard B and the co-founder of M.A.D.E. Entertainment played one of his songs that Comma Zero thought was hot. Comma Zero immediately set out to push his skills to a level that would enable him to trade bars with his cousin on a song. He began to work tirelessly crafting stories to music reminiscent of how he'd lived before.
Comma Zero has taken the motto from the acronym of his label M.A.D.E. Entertainment and applied it to his life and career in music. Money always determines everything, so his relentless quest to build a rap empire is a goal he's set to help provide for his family and help his friends, some who still live and move with a street mentality. He wants to be successful so that he can provide better options for his nieces and nephews that the presence of money can afford them. He hopes the stories in his music and his example of breaking free from the streets will help steer other inner city youth who are on the wrong path that he once trailed.
Stay up to date with Comma Zero via Twitter at: @comma_zero
About Coast 2 Coast Mixtapes:
Coast 2 Coast Mixtapes are the most widely distributed mixtapes in the world, with over 100 million downloads/plays generated by over 300 volumes officially hosted by major artists. Coast 2 Coast has a solid reach in the new music industry with a digital magazine, DJ coalition, industry tips blog, yearly convention, and more. Coast 2 Coast Mixtapes represents a unique opportunity for artists of all urban genres, from major to indie. For more information, visit http://www.coast2coastmixtapes.com.