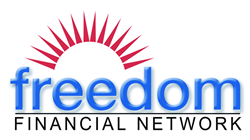 Back-to-school is a great season for a refresher course on organizing finances and managing money
San Mateo, Calif. (PRWEB) August 14, 2015
With back-to-school season in full swing across America, now is the time for people to organize their finances so they can earn straight A's in money management, says Kevin Gallegos, vice president of Phoenix operations for Freedom Financial Network (FFN).
"Younger kids are going back to school, and adults are heading off to college, which means plenty of expenses for many households, from electronics to clothes to lunches," Gallegos said. "At the same time, it is all too true that most schools teach little to nothing about how to manage money and avoid going into debt. Back-to-school is a great season for anyone to give themselves a refresher course on organizing their finances and managing money."
While school bells have already rung for students in some parts of the country, it's never too late to take a lesson in financial management with these seven tips from Freedom Financial Network.
1. Budget, budget, budget. "We make this the first lesson, because it is so important," Gallegos said. Everyone should use a monthly budget to track spending and income, he added. By tracking daily spending, households can learn where their money goes – and adjust as needed.
2. Try the envelope system. Back-to-school shopping provides an excellent opportunity to try out the envelope system. To use it, people withdraw enough cash for a budgeted expense (such as shopping for supplies or clothes). Then divide the cash into envelopes assigned to categories – clothing, electronics, supplies, etc., for each person. When the cash for one category is gone, shopping is done. Alternatively, look for an app that tracks spending the same way.
3. Be over-cautious with overdraft protection. "An overdraft protection loan – and it is a loan – can save $50 in fees each time a check might have bounced otherwise," explained Gallegos. That can be valuable if it rarely happens, but watch out for high fees for this 'courtesy.'" Overdraft funds usually come with high interest rates (a median of 18 percent, according to an FDIC study) and/or fees (a median $27 per occurrence). Understand that the overdraft business is big business. It nets banks $32 billion annually, the Consumer Financial Protection Bureau reports.
4. Save money – automatically. One way to streamline savings and debt repayment is to automate finances as much as possible. Paychecks can be directly deposited in one or more accounts. Making savings automatic means people never forget to pay themselves first. At many institutions, direct deposit also saves on banking fees.
5. Make retirement planning a no-brainer. Just as people can save automatically at the bank, they can do so with retirement accounts. "Consider retirement saving a monthly bill that is not optional," Gallegos said. "If your employer doesn't deduct retirement contributions automatically from your paycheck, set up an automatic transfer to an IRA or other self-funded account." Saving for retirement is especially valuable for new graduates. Thanks to compounding interest, people who stash 10 percent of their salary starting in their 20s can save 50 percent more by retirement age than people who don't start until their 30s.
6. Cut out late payments (and fees). Paying bills late is a headache, it's embarrassing, and it can cause tremendous expense in terms of late fees, higher interest rates and reduced credit scores. Spending a little time up-front to set up bills for automatic payment, on time, can pay off significantly. Even better: If in debt, arrange to pay more than the minimum on at least one account to get out of debt. "This system will soon feel like a non-negotiable obligation," Gallegos added.
7. Own a home sooner. One simple way to boost a household's financial GPA is to pay off the mortgage faster. By paying one extra mortgage payment per year, most homeowners can repay their home loan five years sooner. It may be difficult to come up with an entire payment at once, but adding one-twelfth of the mortgage payment amount to each monthly payment will take care of the task. However, Gallegos advised that it is more important to repay high-interest debt, such as credit cards, before focusing on the mortgage.
"The biggest lesson to learn, whether planning back-to-school shopping, retirement planning or repaying credit card debt, is to live within your means," Gallegos said. "The more you make smart money management automatic, the less you have to worry – and the more you can enjoy the school year, or any season."
Freedom Financial Network (http://www.freedomfinancialnetwork.com)
Freedom Financial Network, LLC (FFN), provides comprehensive consumer credit advocacy services. Through the FFN family of companies – Freedom Debt Relief, Freedom Tax Relief, ConsolidationPlus, FreedomPlus and Bills.com – FFN works as an independent advocate to provide comprehensive financial solutions, including debt consolidation, debt resolution, debt settlement and tax resolution services for consumers struggling with debt. The company, which has resolved more than $3.5 billion in debt and assisted more than 300,000 clients since 2002, is an accredited member of the American Fair Credit Council, and a platinum member of the International Association of Professional Debt Arbitrators.
Based in San Mateo, California, FFN also operates an office in Tempe, Arizona. The company, with more than 800 employees, was voted one of the best places to work in the San Francisco Bay area in 2008, 2009, 2012, 2013 and 2014, in the Phoenix area in 2008, 2009, 2010, 2012, 2013 and 2014. FFN's founders are recipients of the Northern California Ernst & Young Entrepreneur of the Year Award.
(end)