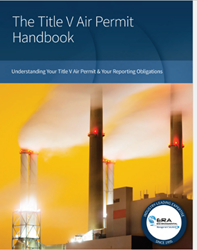 (PRWEB) August 14, 2015
A new and improved edition of ERA's authoritative Title V Handbook is now available as a complimentary download online. The first edition of this guide was hand-picked by the EPA as an official training document for EPA regulators, and was an invaluable resource for any EH&S professional or site manager.
The updated edition of the handbook provides information about applying for a Title V permit, writing an effective and streamlined permit, and how to simplify air emission tracking & reporting.
To get your complimentary copy of the updated edition of this essential handbook go to: http://hubs.ly/H011j-h0.
About ERA Environmental Management Solutions:
ERA has supported the air emissions management efforts of manufacturers, including Fortune 500 and small sites, for twenty years. It provides a comprehensive EH&S solutions for air emission tracking and reporting to any type of manufacturing facilities, including automotive, aerospace, chemical, and oil & gas.