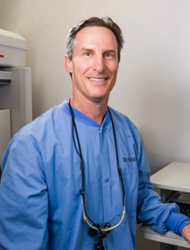 Santa Monica, CA (PRWEB) August 13, 2015
People who require treatment for receding gums in Santa Monica, CA, are now invited to visit Dr. Andrew Satlin in West Los Angeles to receive the Chao Pinhole® Surgical Technique (PST™). This treatment offers the same cosmetic and health benefits as gum grafting, but employs a minimally invasive approach. This allows Dr. Satlin's patients to experience a shorter healing period, with minimal risk of discomfort or bleeding.
The Chao Pinhole® Surgical Technique has recently gained renowned popularity among periodontists and media outlets, for its ability to correct gum recession with minimal trauma. Dr. Satlin begins this procedure by creating a tiny pinhole incision in the receding gum tissue. Once this incision is made, no additional incisions are necessary. With a specialized instrument, Dr. Satlin reaches through the pinhole and gently loosens the gum tissue, sliding the gum tissue to a more natural position. No sutures are required to secure the new position of the gum tissue, allowing patients to enjoy immediate cosmetic improvements.
This procedure can assist patients who have receding gums in Santa Monica, CA, reducing their risk of various health issues. When gums recede, teeth can be left exposed to infections and accumulation of bacteria, which can ultimately cause trauma. Additionally, gum recession is an indicative early warning sign to other serious oral health conditions such periodontal disease. The Chao Pinhole® Surgical Technique cannot directly address these other issues, but appointments for gum recession treatment can provide Dr. Satlin an opportunity to detect and diagnose other problematic oral health conditions.
This new gum recession treatment offers a more convenient solution for people who suffer from receding gums in Santa Monica, CA. During the procedure, Dr. Satlin can correct widespread recession that might normally require multiple gum grafting appointments. Since the procedure is minimally invasive, patients also experience a reduced risk of infections and other issues following completion of the procedure. Those who are interested in learning more about this treatment are encouraged to visit Dr. Satlin's website for a gum recession consultation.
About the Doctor
Dr. Andrew Satlin is a periodontist offering personalized dental care for West Los Angeles, CA gum disease patients. Dr. Satlin is part of one percent of dental professionals providing the LANAP® FDA cleared laser procedure for gum disease treatment. To learn more about Dr. Satlin and his dental services visit his website at http://www.westlosangelesperio.com and call (310) 907-5912.