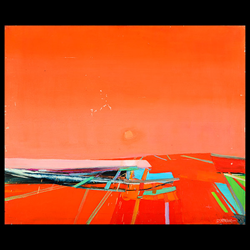 (California b. 1926) "Landscape" Oil on canvas Sold for $9,440
Alameda, CA (PRWEB) August 13, 2015
Michaan's Aug. 8, 2015 estate auction saw quality modern artworks achieve some of the highest figures of the sale. Raimonds Staprans' stark "Landscape" painting in bold red tones was secured by a floor bidder, realizing a price of $9,440 for the oil on canvas (lot 269). The second-highest sale cemented by the Fine Art Department was found in Vance Kirkland's "Dot Series #15 (Red and Blue 1964)," sold as for $4,000-6,000 (lot 268). This piece depicting fire by the artist is painting number 20 of his "The Dot Paintings/Energy in Space Abstractions" series, reflecting the creation myth of Valhalla's (Hall of the Slain) Home of the Norse Gods. A phone bidder placed the winning bid for the vibrant depiction, secured for a final price of $6,490.
"The market at large, especially the Bay Area art market, has seen modern enthusiasts react favorably to strong images from noted artists. The hammer prices for the Staprans and the Kirkland reflect the recent growth in popularity for local California modernist painters specifically," Fine Art Department Specialist Susan Paffrath said.
Excellent numbers were also seen in an assortment of collectibles (lot 512), like a Haida argillite carved pipe and stone inscribed with an origin of Queen Charlottes Island N.W. Coast America. A winning Internet bid solidified the second-highest price of the day at $7,670. Also of mention from the department were the additional Internet sales of a French J. Ullmann & Co. nautical mantle clock estimates sold for $4,425 (lot 530, $400-600), an Egyptian alabaster "Alabaston" bottle from the third century B.C. for $2,950 (lot 505, $800-1,200) and an Egyptian Revival-style Gorham silver-plated, four-piece tea set that more than tripled projections, which sold for $2,006 (lot 435, $400-600).
Asian offerings experienced the largest amount of lots to exceed estimates, with two more than tripling projections (lots 161 & 174) and seven more than doubling (lots 171, 175, 182, 196, 203, 224, 226). Categorically, works by Hiroshi Yoshida were the greatest contributor to this lengthy list, with the undisputed top seller from the artist being the woodblock print "Sailing Boats – Evening" at more than seven estimations for $5,015 (lot 165, $500-700). Also wowing at auction was a lot that found great interest at the preview and beyond, as the early 20th-century clay teapots and containers realized $4,720 (lot 244, $300-400).
Complete results for the August estate auction as well as future sale information and bid submission is available online at http://www.michaans.com. For general information, please call Michaan's Auctions at 510-740-0220 ext. 0 or email info@michaans.com. Michaan's Auctions is located at 2751 Todd St., Alameda, CA 94501.
About the company:
Michaan's Auctions is a leading full-service auction house on the West Coast. Specializing in the appraisals and sale of antiques and fine art, Michaan's has specialists in the fields of furniture and decorative arts, modern, contemporary art, European and American paintings and prints, jewelry and Asian works of art.
Established in 2002, Michaan's Auctions holds up to 30 sales each year attracting a broad base of buyers and consignors from all over the world. With one of the largest facilities in Northern California and the Bay Area's lowest buyer's premium, Michaan's offers buyers and sellers the opportunity to preview and bid on many unique and desirable properties. Some of these pieces realized world record prices. In 2005, A.D.M. Cooper's oil painting, Three Graces 1915, sold for a record $21,060 and an Eduard Gaertner oil, German City Street Scene 1831 sold for $266,000.
Michaan's has built its reputation on its ability to accept single items, groups or entire estates with its "no risk consignment policy" free of hidden fees and charges. Michaan's specialists are dedicated to staying current on the latest issues and developments in the market and are committed to providing personalized and professional attention throughout the entire auction process.
For a full listing of upcoming auctions or to view a complete catalog, please visit http://www.michaans.com.