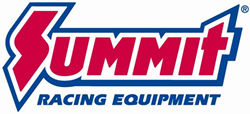 Tallmadge, OH (PRWEB) August 17, 2015
Bolting on some Cal Custom parts is perhaps the best way to top-off an authentic, period-correct hot rod build, yet Cal Custom gear looks equally at home in musclecars, trucks, and late model cars. Here's just a small sample of Cal Custom parts at Summit Racing.
A Cal Custom Air Cleaner adds a final piece of dress-up for any carbureted engine. They come in a wide range of styles, from a traditional round or oval, to a more vintage batwing or teardrop shape. Each air cleaner includes a red cotton gauze air filter. Choose from a black powdercoat or polished finish. Depending on the style, these filters are compatible with single, two, or four barrel carburetors.
Available with either cast aluminum or stamped steel construction, a pair of Cal Custom Valve Covers are a stylish and functional upgrade to a V8. The cast aluminum covers feature a classic finned design. The stamped steel versions can be had either plain or with etched flame accents. Cal Custom makes valve covers for both small and big block Chevy, small block Ford, and 264-425 CID Buick V8.
Made from cast aluminum, Cal Custom's finned Oil Pans are a stylish upgrade to small block Ford and Chevy motors. They are direct replacements for a 5-quart pan and include a drain plug.
Cal Custom makes Gauge Kits, too. Select from either a Heritage Kit, with vintage style befitting a classic golden-era hot rod, or a more contemporary Performance Kit, styled for modern build. Each kit includes a speedometer, oil pressure, water temperature, voltmeter, and fuel level gauge. Six-gauge kits are also available, adding a tachometer. White face/black number or black face/white number options are available.
No hotrod build is complete without a foot-shaped Gas Pedal.Cal Custom makes three different versions—how gearhead chic is that?
Summit Racing Equipment
http://www.SummitRacing.com
1-800-230-3030