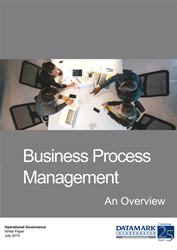 El Paso, Texas (PRWEB) August 15, 2015
DATAMARK, Inc., a leading provider of business process solutions, including outsourced contact center services for Fortune 500 companies and other large enterprises, has released a new white paper focusing on the concepts and strategies behind business process management (BPM).
AIIM, the Association for Information and Image Management, defines business process management as "how we study, identify, change and monitor business processes to ensure they run smoothly and can be improved over time."
The white paper, "Business Process Management: An Overview," discusses the "what," "why" and "how" of BPM.
It clears up the confusion between the description of BPM as a management approach and the software tools used to organize and manage business processes, commonly known as BPM suites.
Additionally, the white paper identifies organizations' top drivers for implementing BPM strategies, including the need to improve customer satisfaction and the need to remain competitive in the marketplace.
The paper highlights DATAMARK's approach to BPM, which consists of a nine-step continuous cycle that includes process analysis, re-design, implementation and monitoring, and continuous improvement.
The white paper is available for complimentary download at this link:
http://info.datamark.net/BPMSOverview.html
About DATAMARK
Celebrating its 25th year in business in 2015, DATAMARK, Inc. is a leading business process outsourcing company specializing in high-volume digital mailroom management, document processing/document management, bilingual (English/Spanish) contact centers and process improvement consulting for Fortune 500 companies and other large enterprises.
Headquartered in El Paso, Texas, DATAMARK employs nearly 2,200 people in its U.S., Mexico and India facilities. For more information, visit http://www.datamark.net. Follow industry news and trends at DATAMARK's Outsourcing Insights blog at http://www.datamark.net/blog.