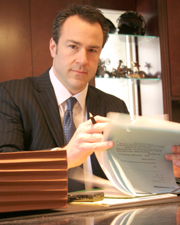 We want to encourage students to find creative ways to talk about how health and legal professionals can work together to best serve people in their time of need.
Detroit, MI (PRWEB) August 17, 2015
Attorney Jason Waechter of http://www.birthlaw.com is committed to helping families who have been affected by birth injuries. Over the years, he has seen countless parents struggle to navigate the complex medical and legal systems. "The medical and legal fields have a goal in common," says Waechter, "to help people when they are vulnerable and trying to figure out how best to care for their kids." He adds, "I think lawyers and health professionals need to work together to really help people."
With that in mind, he created the Waechter Medical-Legal Scholarship, which awards a $1,000 prize to one student in a health-related program, and $1,000 to one student in a legal program. Waechter awards each prize to the student who turns in the most creative, interesting submission. "We get a lot of dry five-paragraph essays, but that's really not what this scholarship is about," says Waechter. "My team and I are looking for students who can look at a problem differently, and who can creatively express their ideas." There is no minimum GPA to apply, and Waechter has opened the scholarship to applicants from any health-related or law-related program, provided applicants can show proof of current enrollment and their program is accredited. "Last year, we got a few poems and a few other creative submissions, so this year, we are hoping to see even more interesting submissions," says Waechter. "Send us a painting, or sing a song. Make a video. Record a rant… Find a creative way to talk about how health and legal professionals can work better together," he suggests. Other suggestions, submission criteria, rules, and disclaimers are posted on his website.
The selection process will begin September 2, and the winners will be announced in early October. So far, Waechter and his team have received fewer than 100 submissions, making the odds of being selected much higher. Questions and submissions should be sent to clerk(at)lawyerforlife(dot)com
#####
Over the last 20 years, Jason Waechter has been passionate about helping families. Waechter is associated with lawyers and law firms in every state across the US. Visit http://www.birthlaw.com for more information.