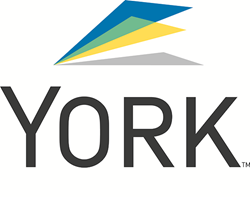 Parsippany, NJ (PRWEB) August 14, 2015
York Risk Services Group (York), a premier provider of claims management, managed care, specialized loss adjusting, alternative risk programs, pool administration and other insurance services, today announced that Michael Krawitz has joined the company as Senior Vice President and General Counsel. In this role, he will direct legal affairs for York, managing all day-to-day matters as well as providing guidance to the company's executive team.
Michael comes to York with over 20 years of legal experience, holding the position of General Counsel for organizations in several industry sectors, including financial and technology. His experience spans corporate governance, compliance, securities offerings, financings, and mergers and acquisitions, in addition to general in-house legal functions.
"Michael is a respected leader with extensive experience in matters key to York's business," said Rick Taketa, President and Chief Executive Officer of York. "Michael's business acumen coupled with the breadth of his legal and industry knowledge makes him an ideal choice for this position. He will be invaluable in guiding our senior management team and the organization as a whole as we continue to expand our products and services to meet our client's evolving needs and the demands of a changing industry landscape," Taketa added.
Michael completed his undergraduate studies at Cornell University and received his JD from Harvard University.
###
About York Risk Services Group
York Risk Services Group Inc. is a premier provider of risk management, claims handling, specialized loss adjusting, managed care, pool administration, loss control and other insurance services nationwide. York provides risk management and managed care solutions to a variety of strategic partners, including insurance carriers, self-insureds, brokers, wholesalers, MGAs, programs, risk pools and public entities. The third largest TPA in the U.S., York delivers customized claims solutions for all lines of business, including property, liability, products liability, ocean and inland marine, environmental, transportation and logistics, construction and workers' compensation. Based in Parsippany, New Jersey, York and has over 90 offices in the US and a strong international presence. Visit us on the web at http://www.yorkrsg.com.
For more information contact:
Anne W. Ellis, CPCU
Vice President
Marketing and Communications
York Risk Services Group, Inc.
973-404-1282
Anne.ellis(at)yorkrsg(dot)com