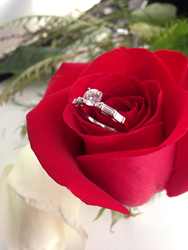 He loved me when I was bald...in tears and in laughter. It didn't change how he felt about me.
Portland, Oregon (PRWEB) August 14, 2015
Engagement Ring Social Media Contest, hosted by Portland Wholesale Jewelry, is attracting couples from across the country and revealing inspirational "How We Met" stories and photos. Voters can read about the marine couple who married four years ago but have never received an engagement ring or traditional wedding. Try holding back tears for the girl who, at age seventeen, was diagnosed with cancer but had a supportive boyfriend who stayed by her side through thick and thin. In their story, she shares "He loved me when I was bald...in tears and in laughter. It never changed how he felt about me."
"How We Met" Photo Contest
Contest Start Date: August 1st, 2015
Contest End Date: September 30th, 2015
Voting Ends October 7th, 2015
Contest Web Address: http://woobox.com/o8g3h8
Restrictions: Must be 18 years or older and a resident of the United States.
Eligible couples will provide a photo of themselves and share their "How We Met" story in the caption section of the photo. Friends and family are encouraged to nominate their loved ones. The couple who receives the most votes by October 7th will be declared the contest winners and receive a diamond engagement ring crafted by Portland-based goldsmith and designer, Christopher Cordova (over $5,000 value).
Portland Wholesale Jewelry has its roots in the fine watch and diamond segments of the jewelry trade, providing services to the jewelry trade in Portland, Oregon. By providing their stunning designs and custom work directly to the public, they elevate the engagement ring buying experience to a wonderfully creative and personal event!
Portland Wholesale Jewelry, LLC
534 SW 3rd Ave. Suite 100
Portland, Oregon 97204
"Exquisite Design. Extraordinary Value. Exclusive Attention."
http://www.portlandwholesalejewelry.com
Facebook - http://www.facebook.com/PortlandWholesaleJewelry
Instagram - @portlandwholesalejewelry
Twitter - @PWJbridal
Pinterest - pinterest.com/PWJbridal