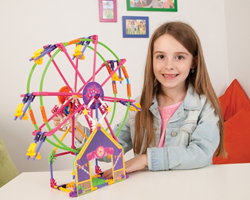 "Mighty Makers building sets invite young girls to express their natural creativity with fun, colorful structures and characters. Through our "Brave & Beautiful" campaign Mighty Makers aims to show every girl that she can be MIGHTY!"
Hatfield, PA (PRWEB) August 17, 2015
Earlier in 2015, K'NEX Brands, the award-winning made-in-the-U.S.A. construction toy company dedicated to Building Worlds Kids Love®, introduced Mighty Makers, a line of STEM-themed engineering toys for girls designed to inspire and empower girls through creative, story-based building sets. To further support this initiative, K'NEX is launching "Brave & Beautiful"; a video marketing campaign that encourages girls to build big ideas, but dream even bigger!
The "Brave & Beautiful" video features original music, by the same name, written and performed by Jessica Owen and begins with young girls speaking about what they hope to be when they grow up. Their inspiring responses to the question "what do you say when someone tells you, you can't do something?" include "I'd just ignore them, it doesn't really matter what they think", "we'll see about that", and "I can do anything!" This remarkable video ends with the girls proclaiming their confidence by shouting "#IAmAMightyMaker!"
When asked what the motivation behind the Mighty Makers product line and the "Brave & Beautiful" marketing campaign was, Kristen Krikorian, Director of Marketing for K'NEX, said "STEM jobs are increasing faster than non-STEM jobs and the need for educated, excited workers is ever-growing. We've noticed a lack of women pursuing careers in STEM and we want to help change that."
A recent report from U.S. News and World Report states that children educated in STEM-related disciplines will ultimately have lower unemployment rates and higher starting salaries than the population at large.
"Young girls have a natural inclination towards building and designing, but there are very few options for them in the building toy aisle. Building, constructing, and creating, gives children the foundation they need to become lifelong learners who can solve problems, think critically, work collaboratively and adapt to change in today's technologically evolving world." Krikorian adds, "Mighty Makers building sets invite young girls to express their natural creativity with fun, colorful structures and characters. Through our "Brave & Beautiful" campaign Mighty Makers aims to show every girl that she can be MIGHTY!"
Created by an all-female marketing and design team, the Mighty Makers building set line is geared towards girls 7+. Each STEM (science, technology, engineering, and math) based set features colorful rods and connectors and follows the life and career (marine biology, mechanical engineering, aviation, etc) of the included figure.
Mighty Makers Building Sets are available now on knex.com and toy retailers everywhere.
About K'NEX Brands
Founded in 1992, K'NEX Brands, the world's most innovative construction toy company, was established to make and sell what has become one of the world's leading integrated construction systems for children, and is America's STEM building solution. Winner of over 270 international awards and recognitions, K'NEX is focused on Building Worlds Kids Love® and encourages youngsters to "imagine, build and play." From the living room to the classroom, K'NEX has building toys specially designed for every age group and skill level. The K'NEX family of brands includes K'NEX Building Sets, K'NEX Thrill Rides, K'NEX Education®, Lincoln Logs®, Tinkertoy®, K-FORCE Build and Blast™, Mighty Makers™, Mario Kart Wii™, Mario Kart 7™, Mario Kart 8™, Super Mario™, PacMan™, Titanfall™, Family Guy™, Plants vs. Zombies™, and more. Since 1992, The Rodon Group®, a subsidiary of K'NEX Brands, L.P., has manufactured over 34 billion parts for the K'NEX building toy system. Join us as we help build the leaders of tomorrow. For more information, please visit http://www.knex.com or http://www.rodongroup.com.
###