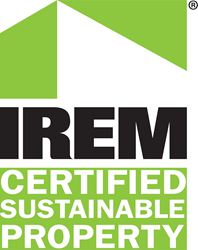 This new sustainability certification is a powerful tool for meeting investment goals through expense reductions, potentially higher revenue, and overall value enhancement. Every property manager should be able to use this tool where it makes sense.
Chicago, Illinois (PRWEB) October 27, 2015
Sustainability is good management and property managers now have an affordable, attainable alternative to LEED. Thousands of existing office, multifamily, and retail properties in the U.S. are working toward sustainability goals but cannot get LEED certification. It's just too far out of reach and does not make financial sense. Now those properties can access a meaningful but achievable recognition program that is cost-effective and does not require hiring a consultant.
The IREM® Certified Sustainable Property certification is an affordable, attainable alternative to LEED certification. The IREM® certification is much more customized to property managers – whereas LEED's requirements are often out of a property manager's control. Many properties have successful sustainability programs but no way to validate them and demonstrate green performance to stakeholders. IREM® saw a need for a new sustainability certification program, one that is attainable, affordable, meaningful, and available to three main property types—office properties, multifamily communities, and shopping centers.
"IREM believes that good management matters and that it improves the quality of life for the people who live, work and shop in the properties we manage," says Lori Burger, CPM®, IREM® President, Eugene Burger Management Corporation, AMO®, Rohnert Park, California. "The IREM Certified Sustainable Property certification demonstrates quality, responsible management to owners, tenants and residents, and other stakeholders."
Visit http://www.irem.org/gogreen. Questions? Contact sustainability(at)irem(dot)org, 312-329-6096 or 800-837-0706 x 6096.
10 Details about the IREM® Certified Sustainable Property Certification
1. Office properties, multifamily communities, and shopping centers can become IREM® Certified Sustainable Properties.
2. The certification assesses performance in five categories – Energy, Water, Health, Recycling, and Purchasing.
3. The entire certification process:

Download certification materials
Complete 15 Baseline Requirements
Earn at least 62 category points
Submit your application and pay your application fee
4. IREM provides a Checklist, Workbook, and Document List for each property type to help you through the certification process.
5. With templates, checklists, and forms for every single requirement and point activity, the Workbook has everything you need to create a sustainability program from scratch, if necessary. It's paint-by-numbers – with value at the end.
6. The certification process doubles as a training program for site staff. You can also use the materials to conduct a SWOT analysis on an existing sustainability program.
7. IREM is rewarding past action and encouraging new levels of sustainability, so you can set baselines going back three years. For example, one point activity calls for improving energy efficiency in areas under management control by five percent. If you are working on the certification process in November 2015, you can set your baseline beginning January 1, 2012.
8. Recertification is every three years. Properties will have an entire calendar year to submit a recertification application. For example, if you certify your property in November 2015, you will have until December 31, 2018 to submit the next application.
9. Market your certification by putting the logo on your website, letterhead, and other materials, ordering an award plaque from IREM's vendor, and joining IREM® in a press release and knowledge sharing.
10. The application fee is $400 IREM® Members/$800 nonmembers per property. To get the member rate, the property manager must be an IREM® Member or the management company must be an AMO® firm.
About IREM®
IREM® is an international community of real estate managers dedicated to ethical business practices, maximizing the value of investment real estate, and promoting superior management through education and information sharing. An affiliate of the National Association of REALTORS®, IREM is the home for all industry professionals connected to real estate management – and the only organization serving both the multi-family and commercial sectors. IREM® believes good management matters, and well-managed properties pay dividends in terms of value and in the quality of life for residents, tenants and customers. IREM® offers a variety of membership types for professionals of every experience level, from on-site managers to high-level executives. IREM® credentials, earned by meeting high standards of education, experience, and ethical business practices, include: CPM®, ARM®, ACoM, and AMO®. Visit http://www.irem.org. Twitter @IREM_info