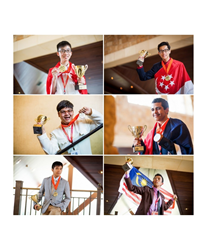 DALLAS, TX (PRWEB) August 13, 2015
Certiport (http://www.certiport.com), a Pearson VUE business, the leading test delivery solution provider for the global workforce and academic markets, today announces the 2015 Microsoft Office Specialist (MOS) World Champions in Microsoft Word, Microsoft Excel and Microsoft PowerPoint, culminating the most popular technology skills competition on Microsoft Office since its inception in 2002.
In its 14th year, the 2015 Microsoft Office Specialist World Championship (MOSWC) attracted 600,000 unique candidates from 47 countries who competed to demonstrate their mastery of Microsoft Office products. 145 student finalists participated in the final round of competition.
The 2015 Microsoft Office Specialist World Champions are:

Pak Hei Lee, Hong Kong, Microsoft Word® 2013
Elliot Tan Yew Han, Singapore, Microsoft Excel® 2013
Taweelap Suwattanapunkul, Thailand, Microsoft PowerPoint® 2013
Manuel Burgos, Dominican Republic, Microsoft Word® 2010
Ka Hei Chao, Macau, Microsoft Excel® 2010
Admon Wen Lee, Malaysia, Microsoft PowerPoint® 2010
Certiport recognized the top six student competitors at the Microsoft Office Specialist World Championship Student Awards Ceremony at the Gaylord Texan Grapevine Resort in Dallas, Texas and presented each 2010 winner with a $5,000 scholarship and 2013 winner with a $7,500 scholarship.
"More than 1.2 billion people use Office worldwide, and these students have taken the time to set themselves apart as the best of the best," said Alison Cunard, general manager of Learning Experiences at Microsoft. "Earning a Microsoft Office Specialist certification has already provided proof that they have the necessary skills to succeed in academics and the workforce. Winning the World Championship puts them in a class of their own, and we look forward to seeing how they put their Microsoft Office skills to use in the future"
In the concluding round, competitors participated in unique project-based tests to demonstrate their ability to create documents, spreadsheets and presentations for the information presented in Word, Excel and PowerPoint.
"The MOSWC showcases the power of technology in education and gives youth from around the world an experience that will benefit them for years to come," said Tong Viet Trung, deputy director of Viettel Group, MOSWC premier sponsor. "We are impressed by the competitors and how well they have prepared for further study and jobs by gaining valuable Microsoft skills."
Next year, Certiport will host the 2016 Microsoft Office Specialist World Championship in Orlando, Florida. Download high-resolution photos of the winners at https://www.flickr.com/photos/certiport/sets/72157657166045785. The event hashtag is #MOSWC.
"Every year this competition grows and it is amazing to see 600,000 youth earn Microsoft Office Specialist certification," said Aaron Osmond, vice president of the global Certiport offering for Pearson VUE. "Next year will be no different and we are proud to support this competition as a vehicle to promote what the world needs most – young people who possess in-demand workforce skills."
About Certiport
Certiport, a Pearson VUE business, is the leading provider of certification exam development, delivery and program management services delivered through an expansive network of over 13,000 Certiport Authorized Testing Centers worldwide. Certiport manages a sophisticated portfolio of leading certification programs including: the official Microsoft Office Specialist certification program, the Microsoft Technology Associate certification program, the Microsoft Certified Educator program, the Adobe® Certified Associate certification program, the Autodesk Certified User certification program, the Intuit QuickBooks Certified User certification program, and the IC3 Digital Literacy certification. Certiport reliably delivers over three million tests each year throughout the secondary, post-secondary, workforce, and corporate technology markets in more than 148 countries and 27 languages worldwide. For more information, please visit http://www.certiport.com or follow Certiport on Twitter at http://www.twitter.com/certiport.
"Certiport" and "IC3" are registered trademarks of Certiport, Inc. in the United States and other countries. The names of actual companies and products mentioned herein may be the trademarks of their respective owners.