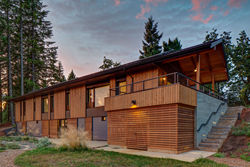 "This award confirms what we have discovered in the field – that the same high performance building techniques that revolutionize building energy efficiency also deliver superior indoor air quality, comfort, and building durability."
Portland, OR (PRWEB) August 17, 2015
The U.S. Department of Energy recently honored Portland and Seattle-based builder Hammer & Hand with its prestigious 2015 Housing Innovation Award.
"The U.S. Department of Energy (DOE) knows there is one chance during home construction to lock in critical performance measures that can take the homeowner experience to a new level of efficiency, comfort, health, and durability," wrote the DOE in its statement. "But it will take housing industry leadership to provide this opportunity to American homebuyers. That's why DOE proudly recognizes Hammer & Hand as one of our nation's select 2015 Housing Innovation Award winning builders paving a path to this home of the future, today."
The award comes in recognition of Hammer & Hand's construction of Pumpkin Ridge Passive House, (http://hammerandhand.com/portfolio/pumpkin-ridge-passive-house/) designed by Scott | Edwards Architecture. As both the builder and the Passive House consultant on the project, Hammer & Hand was responsible for ensuring that the home met the world's most rigorous building energy standard: Passive House.
The North Plains, Oregon home, also recipient of the 2014 Best Mainstream Green Home of the Year Award from GreenBuilder Media, has earned three green building certifications: PHIUS+ Passive House, DOE Zero Energy Ready Home, and Earth Advantage Platinum Home. A newly added 9.9 kW solar array will bring the home into "net zero energy" territory, meaning the home should produce as much or more energy than it consumes on an annual basis.
"It is a tremendous honor to receive this recognition from the U.S. Department of Energy," said Sam Hagerman, co-owner of Hammer & Hand. "This award confirms what we have discovered in the field – that the same high performance building techniques that revolutionize building energy efficiency also deliver superior indoor air quality, comfort, and building durability."
The experience of Bryan Farris, owner of Pumpkin Ridge Passive House, bears this out.
"When you put a little more thought and a little more attention into the engineering of the house, you have a house that's really comfortable, that you really enjoy, that you can stay in for the rest of your life and that you don't want to leave," said Farris. "I don't know that I can say that for any other houses that I've lived in."
More about Hammer & Hand's approach to high performance building can be found at http://hammerandhand.com/high-performance/building/.
About Hammer & Hand
Dedicated to inciting evolution in building through service, craft, and science, Hammer & Hand is a builder that partners with clients and architecture firms on commercial and residential projects in Portland and Seattle.