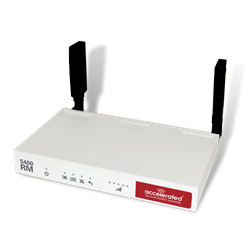 A robust and resilient OOB management system should support a cloud based scalable system that allows remote access to CPE serial ports via an intelligent cellular network WWAN connection
Tampa, Florida (PRWEB) August 17, 2015
Accelerated expands upon its cellular connectivity offering with the 5400-RM Cellular Out of Band (OOB) Remote Manager for network equipment. The 5400-RM allows organizations to securely manage remote network equipment using any site Ethernet based connection or completely out of band using the Cellular Data Network.
Whatever the enterprise business model, when online data is necessary to run a business, the business becomes dependent on both its data center and its remote site connectivity and security. At these locations (and this is the same for cloud services) there are a variety of network devices, including primary router and firewall appliances, that require constant management to keep the business online and operating without interruption.
Primary management of network devices is typically performed using the same network on which the network device resides, which is why it is referred to as in-band management. In-band management encompasses all day-to-day operational management of a device via its primary management connectivity channel; for example, SSH via a WAN internet port to allow network system administrators to manage the remote router and firewall equipment over a secure connections on the primary fiber or T1 connection.
In-band management's dependence on the health of the same network the devices are servicing leaves little room for recovery in the event of a single device or connectivity failure. Should a remote gateway router experience a problem (such as a failed configuration change) an IT team at HQ may not be able to diagnose and repair the fault without physical access to the device. The IT team would need to rely on local untrained staff to trouble shoot or power cycle equipment, travel to the site to remediate, or depend on costly overnight shipping to send out replacement devices. Minimizing these costs has a measurable ROI.
Out of band (OOB) management introduces a dedicated separate management interface for device management that is independent of the primary network. A robust and resilient OOB management system should support a cloud based scalable system that allows remote access to CPE serial ports via an intelligent cellular network WWAN connection. OOB solutions are especially critical to distributed enterprises, with IT teams managing large numbers of locations at scale and making physical access to all devices not only impractical but impossible.
With an effective OOB management solution in place, device failures can be effectively addressed remotely, with no costly travel or service technician visits. Remote operations teams can connect to the device over an alternative WWAN or 4G/LTE link and access non-functioning routers via the router's local serial interface to repair common issues like the configuration failures.
Even though OOB is critical to network performance, many enterprises continue to rely on Plain Old Telephone Service (POTS) for their OOB solution even as POTS is being withdrawn in many areas and carriers are no longer investing in POTS infrastructure! With the advancements in wireless technologies (4G LTE) there has never been a better time for an organization to review their OOB management and failover solutions. Carriers are investing heavily into their WWAN networks, offering WWAN with better coverage, at cheaper rates and more reliably than their aging POTS networks.
WWAN technologies bypass the wireline infrastructure completely to provide the optimal OOB solution for a wireline network. Integrating the right technology, WWAN doesn't have to be limited to OOB, WWAN can be used to provide the entire enterprise site network failover and network redundancy for unexpected outages. Uptime is critical to business continuity and so not only can a device like this provide remote management and troubleshooting, but it can give your business continuity in parallel.
Accelerated's next generation, IP6 ready, embedded 3G / 4G / LTE cellular failover technology, the 5400-RM can deliver this seamless broadband backup WWAN capabilities and simultaneously provide uninterrupted OOB remote management for critical infrastructure all from a centralized network operation facility using network cloud management.
Accelerated is a trusted partner to one of America's leading Tier 1 carriers, providing OOB management for many thousands of carrier managed MPLS customer network connections.