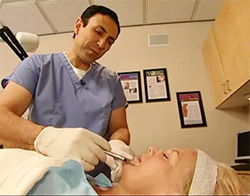 Los Angeles, CA (PRWEB) August 14, 2015
On August 8, 2015, Harper's Bazaar Magazine in an article titled "6 Things You Should Know Before Considering Lip Injections," provides advice on what prospective patients should consider before moving forward with lip injections. The article states that there may be complications or side effects from these treatments, such as inflammation, and those with autoimmune disorders should be carefully evaluated before proceeding. The article also advises prospective patients that it's important to manage expectations. Patients should be aware of the discomfort they may experience and know that ibuprofen or aspirin cannot be taken while recovering, because these medications can increase the potential of bruising. (See: goo.gl/tfsWxc)
"We have been performing lip augmentations on a daily basis in our clinic for many years," says Dr. Simon Ourian, Medical Director of Epione Beverly Hills. "Losing facial volume, including in the lips, is a fact of aging. Fortunately, we now have multiple tools at our disposal to restore lost lip volume."
Despite the article's various cautions, Harper's Bazaar Magazine states the procedure won't affect the long term appearance of the lips, and that repeated injections can even result in stimulating collagen, which may allow injections to last longer. Additionally, it's important to choose a a cosmetic dermatologist who has experience with lip augmentation and who will educate patient on the procedure and its aftereffects, including how long the filler will last. Finally, that physician should have experience with multiple types of dermal fillers so that he or she can choose the one most appropriate for each patient's aesthetic goals.
"No one wants duck lips," says Dr. Ourian. "Therefore, it is important to choose a physician with the artistic sensibility and deft touch that are vital to achieving a natural-looking result."
Dr. Ourian has been a pioneer in laser technology and non-invasive aesthetic procedures including UltraShape, VelaShape, Restylane, Juvéderm, Radiesse, Sculptra, and CoolSculpting. These treatments are used for the correction or reversal of a variety of conditions such as acne, acne scars, skin discoloration, wrinkles, unwanted fat, stretch marks, varicose veins, cellulite, and others. More information about dermal fillers can be found on Epione's website.