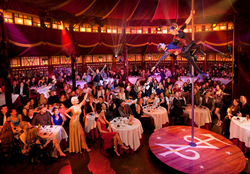 "The center of the spiegeltent may be my favorite place on Earth"
Seattle, WA (PRWEB) August 24, 2015
Hollywood glamour reigns supreme in Teatro ZinZanni's all-new spectacle Hollywood Nights, so it's no wonder Cecil B. DeGrille… errr Ron Campbell will return this fall to helm the zany comedy after seven years away. Ron Campbell stars in Hollywood Nights alongside an international cast of characters and talents at Teatro ZinZanni Seattle, September 17, 2015-January 31, 2016. Tickets are on sale now at zinzanni.com/seattle or by calling (206) 802-0015.
In a career that has spanned three decades and four continents, Campbell is not only an award-winning, respected actor who has performed everywhere from the streets of Paris to the Royal Albert Hall in London, the Fuji Dome in Japan, the Ancient Theatre of Epidaurus in Greece, the American Conservatory Theatre in San Francisco and the Mark Taper Forum in Los Angeles -- he has also stolen hearts. Even San Francisco Chronicle theatre critic Robert Hurwitt quoted this month that Campbell "has been such an established Bay Area presence for five years that we sometimes forget we have to share him with the rest of the world." An award-winning One Man show practitioner (R. Buckminster Fuller, The Thousandth Night, Shylock, The Dybbuk, among others) and certified guffawaholic, Ron is an Associate Artist at California Shakespeare Theatre, Teaching Artist at The Berkeley Repertory Theatre and recipient of the Fox Fellowship for Distinguished Achievement, to name a few of his resume highlights.
With the opening of Hollywood Nights in Seattle's established and internationally renowned spiegeltent, Campbell takes to the center ring as Cecil B. DeGrille. "I think I first performed with ZinZanni in 2007 in San Francisco," Campbell recalls. "The run was continued in Seattle. But it was in my second ZinZanni show in 2008 that I created Mad Chef/Movie Director Cecil B. DeGrille." DeGrille was famous, and to some infamous, for casting audience members on the spot for his delightfully entertaining improvisational bits during each show. "I've had a lot of experience since my last incarnation at ZinZanni with pulling audience members to help with my bits. That was a big part of my work with Cirque (Du Soleil). And this time Cecil has even more license to comedically kill!" Since Campbell's last turn at Teatro ZinZanni, he spent five years on the road as "The King of the Clowns" in Cirque Du Soleil's production Kooza, a performance that garnered him high praise, and is currently completing a run of Don Quixote at Marin Shakespeare Company.
Known for bringing otherworldly talents into close proximity with its audiences, it's also Teatro ZinZanni's signature improvisation work that leaves a lasting memory. With each production comes a multi-course feast paired with spellbinding talent in the form of hand balancing, aerial trapeze, juggling and more, but along the way the responsibility of carrying the show and story forward throughout the night rests squarely on a single set of shoulders. "I spend a fair amount of time looking for artists who are good at the interactive comic work that we feature in the shows," Reenie Duff, Associate Artistic Director at Teatro ZinZanni commented. "It is a very particular skillset and we have often looked at performers who are practiced in the art of the one man show – in the past this has included talents like Frank Ferrante, Christine Deaver, Kevin Kent, and, of course, Ron Campbell. They are all artists who can hold an audience by themselves, and in this case, they are all comic talents."
With performances all over the world, and even past experience at Seattle theatres including Intiman Theatre and Seattle Repertory Theatre, Campbell counts ZinZanni amongst some of his proudest professional experiences. "Some of my fondest memories are from those many ZinZanni shows. The center of the spiegeltent may be my favorite place on Earth." And, the love is mutual. "Ron has done stints with us in the past and I have always held a candle for him as an artist," Duff commented. "I really consider him part of the Teatro ZinZanni company and am thrilled that he is able to come back to entertain our audiences."
For a complete cast list and more show detail, please visit us at: http://zinzanni.com/seattle