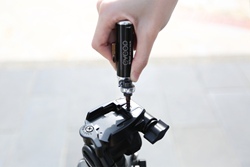 BiTool is built from the ground up to: Save time and money, make life easier, and keep customers looking good and stylish while assembling & tightening.
San Jose, CA (PRWEB) August 15, 2015
CYCOP is a new urban & lifestyle brand that debut in 2015. Currently, CYCOP has launched a new campaign called BiTool in Kickstarter. BiTool is a light and portable tool with multiple tool bits designed for daily use. Whether customers are D.I.Y. makers or all thumbs for tool usage, BiTool is able to help users loosen the bolts, tighten the screws, and repair something in an easier and effortless way that other tools can't.
BiTool is built from the ground up to: save time and money, make life easier, and keep customers looking good and stylish while assembling and tightening.
BiTool can be broken down into six characteristics as follows:
All in one, one for all: BiTool includes a 5 compact bits set and a 10 combo bits set that fit most of daily usage. In short, with BiTool customers can throw a bunch of tools or the toolbox away.
Easy to carry: BiTool is merely 100 grams in weight; customers can hold BiTool easily with its compact size and can put BiTool into pocket, backpack, pencil case and make-up case without any difficulty.
Magnetic mechanism: Someone may be tired of looking for a suitable tool mentioned in the assembling manual. All bits of BiTool are clearly marked on the side of the body, so customers can choose easily and promptly. Moreover, an integrated magnet is able to help customers arrange all bits in order and take the bit that customers want instantly by choosing the specific bit immediately without messing up other bits.
Magnetic ratchet head: BiTool combines with the magnet inside of ratchet to help customers to replace bit effortlessly.
180 degree of operation: The ratchet head can rotate 180 degrees and adapt to operate in any kind of working environment, even inside of a tiny space. This means customers can use BiTool not only like a screwdriver but also as a ratchet wrench.
Rapid bits replacement & smart screws collection: When using BiTool, people can switch bits without hesitation by attaching another one on the body with magnetic force to have quicker operation.
Furthermore, everyone should have the experience of tightening a screw while the other screws slip out of their hands. When customers need to fasten only one screw, they can simply attach the other screws on BiTool's body to prevent them from scattering on the ground. If screws do scatter on the ground accidentally, customers can also easily collect them up with magnet inside of the barrel.
Meet the CYCOP
CYCOP is an urban lifestyle brand focusing on creating elegant city transportations, accessories & tools for urban dwellers. The vision of CYCOP is to create the ultimate design and inspire everybody in each moment and experience. Although the headquarter of CYCOP is in San Jose, USA, but our team members are composed from United States, Asia, and even Europe. In this way, CYCOP are able to ensure our creation is able to cater most people's needs and enhance daily life experience.