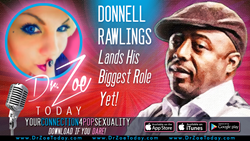 "...You're going to see me in a delivery room or coming out of a hospital because I'm expecting my first child which is a boy! His name is Austen and I am so excited!" Donnell Rawlings
New York, NY (PRWEB) August 14, 2015
Donnell Rawlings has been a little vague about the latest developments in his life, so he came on Dr. Zoe Today this week to clear things up on Thursday night's show. Even the episode title, "Donnell Rawlings Lands His Biggest Role Yet!" is ambiguous. It wasn't until the words, "Tell all of our listeners what is the new biggest role of your life that you landed!" came out of host, Dr. Zoe Shuster's mouth, that all the puzzle pieces finally fell into place with Donnell's reply, "Well people can say, 'You've seen him on HBO's The Wire', 'You've seen him on Spiderman 2', 'You've seen him on Chappelle Show' but soon you're going to see me in a delivery room or coming out of a hospital because I'm expecting my first child which is a boy! His name is Austen and I am so excited!". Yes, that's correct. The stand up comic who's a regular on MTV2's Guy Code and Guy Court is going to be a father as soon as August 24th, which he also revealed on the show. And the baby mama? He cleared that up too. The stunning Stephanie George, former cast member of Oxygen's The Bad Girls Club, comedic actress, model and activist against childhood abuse and neglect, is carrying Ashy Larry's baby. Donnell shared that Stephanie is "the love of his life" and "a genuine person". "Some people get excited about the physical attributes and that's cool, that's a blessing if you can find somebody that's beautiful but more importantly to me, is that she's beautiful on the inside and she appreciates me and she loves me. Yes, she's attractive but that's not the one trait that made me decide this looks like the chick I'm going to be with for the rest of my life."
The baby boy's full name will be Austen Donnell Rawlings. Donnell shared, "I could have made him a junior but I don't want him to have to live in the shadow of me. I want him to have his own identity and his own personality."
Dr. Zoe is known for creating an atmosphere in which her guests almost always reveal "too much". The comedian opened up about settling down later in life, his own father, how he deals with the naysayers (ie: the slew of trolls on Stephanie's Instagram pointing out the 20 year age difference between the couple), the ups, downs and mysteries of pregnancy, his views on parenting and much more. This show is full of visions of bouncing babies and lots of laughs.
Dr. Zoe Today features weekly celebrity interviews, bringing real, raw and relevant information on "pop sexuality". To listen to this show as well as the archives of their many others, download the free "Dr. Zoe Today" app, available on the App Store and Google Play or listen via the show's website at DrZoeToday.com