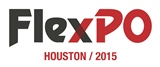 the petrochemical and polymers market is on the cusp of historical increases in upstream, midstream and downstream capacity
(PRWEB) August 17, 2015
CMR is excited to report that more than 30 speakers from across the global petrochemical industry will be speaking on a wide array of contemporary topics at CMR's 24th annual FlexPO Conference.
Early bird registration pricing expires August 20th with regular pricing applied thereafter. This year, with a robust program and our return to the Houston TX area, FlexPO 2015 is generating tremendous interest in the petrochemical industry.
FlexPO 2015 will be held at an elegant new venue The Woodlands Waterway Marriott Hotel & Convention Center, located in the heart of The Woodlands, Texas. The venue is located 40 minutes north of downtown Houston and is convenient to the George Bush Intercontinental Airport.
Delegates will have the opportunity to attend more than 30 presentations based around the theme 'Chemical industry game-changers: what's next?'
The opening day will be dedicated to a wide range of commercial and macroeconomic topics beginning with the Keynote presentation 'Innovation: The key to past and future success in the global chemical industry' from Bob Nadin, former VP, Braskem Americas.
Further topics to be covered during the two and a half day program include contemporary chemical and polymers innovation, shale gas updates, logistics and new polymer capacity, single site catalyst developments, propylene alternatives and many more.
With extraordinary expansions taking place in North America continuing at planned pace, the petrochemical and polymers market is on the cusp of historical increases in upstream, midstream and downstream capacity across a wide range of applications. Recent strength in the North American housing and automotive sectors as well the comparative strength of the North American economy on the global scene has also provided ample interest in the full range of vital subject matters in petrochemicals.
Attendance at FlexPO 2015 will provide insights across many contemporary commercial and technical topics that will provide an insightful basis for operating, innovation and commercial judgements facing your firm and customers.
Register now to take advantage of the early bird discount available until August 20th only.
Group discounts also apply.
flexpo.cmrhoutex.com About CMR
Chemical Market Resources, Inc. (CMR) was established in 1990 to undertake business research and strategic planning for a global clientele base concentrated in the chemical, petrochemical, plastics and allied industries.
CMR Inc. provides clients with thoroughly researched market studies emphasizing emerging trends in the industry, changes in technology supporting these trends and strategic direction assessment so that our clients can optimize opportunities in specific markets.