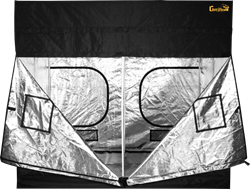 Gorilla has always been known for its world class tents
Santa Rosa, CA (PRWEB) August 16, 2015
Gorilla grow tent is adding to their award winning line up of products with indoor growing accessories. GGT is announcing their new high CFM kit. This accessory (built Gorilla Tough) snaps into place horizontally to frame of any Gorilla product. This is a perfect solution for people opting to use large fans which move massive amounts air, and thus creating higher than normal negative pressure, to help offset high temperature scenarios. It installs in minutes, and can help growers squeeze those extra few inches out of their tent. The bars are made from the exact same steel that has made the Gorilla brand frame famous, and feature custom molded, high density clips that lock into place and ensure rigidity. This kit is available in all popular GGT sizes. Gorilla Grow Tent is once again raising the bar in the grow tent world.
Gorilla has always been known for its world class tents but now they are delivering world class accessories to go alongside the atringets tent in the market. Weighing in as the tallest, strongest, thickest and most user friendly grow tent, the Gorilla product line is the best-selling grow tent online and for retail hydroponic stores. The most striking feature of the Gorilla Grow Tent was the height adjustable tent structure. This enables a user can easily extend their tent from 7ft. up to 8ft, 9ft even up to 10ft with the patent pending tent extension feature. The benefit to customers is to increase their grow space almost instantaneously. Now with the high CFM kit it makes that grow space almost indestructible. The bars are made from the exact same steel that set Gorilla apart from those in the market and the high density clips that lock into place increase rigidity and make it so growers can squeeze a few more inches out of their grow space. The best thing may now be the fact that with the accessories anyone can customize that durable grow space they've always dreamt of. Gorilla customers will feel safe and secure as the Gorilla grow tent will not collapse like other flimsy products on the market today. In addition, the Gorilla Grow Tent's size optimized product suite enables them to actually act more like a grow room than just a grow tent.
Gorilla now boasts a plethora of accessories including the High CFM Kit. To find the accessory needed to take a grow space to the next level visit http://www.gorillagrowtent.com or call their toll free line at 1(855)448-4769. With the strongest grow tent on the market getting better customers can rest assured knowing that if they are a Gorilla customer their grow space is heavy duty and has limitless possibilities.