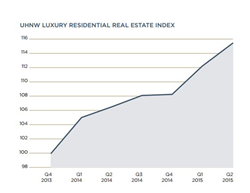 Seattle, WA (PRWEB) August 14, 2015
Realogics Sotheby's International Realty (RSIR) announced today that an increasing number of international ultra-high net worth (UHNW) individuals are purchasing homes as "opportunity gateways."
The latest study released by Wealth-X and the Sotheby's International Realty® brand, UHNW Luxury Real Estate Report: Homes As Opportunity Gateways, identifies two significant trends fueling the rise in the number of UHNW individuals who are buying luxury homes:
(1) International home-buying by UHNW individuals (defined as those with at least US$30 million in assets) from emerging nations seeking safe investment diversification.
(2) Home-buying as part of a program to gain citizenship or residency status in foreign nations.
The report specifically provides insight into the UHNW residential real estate opportunities in Sydney and Vancouver for buyers seeking safe investment diversification; and Malta, the Bahamas and Sao Paulo, which may appeal to ultra-wealthy buyers who desire citizenship or residency through property investment.
According to the report, the UHNW Luxury Residential Real Estate Index from Q2 "rose to 115.2, surpassing its previous high in Q1 of 2015 of 112.1. The index is up 8.2% year-on-year," and "has now risen for six consecutive quarters." Further, "the index, which represents real estate on a global basis, indicates the strength of the market generally" while providing a resource for analyzing both global and regional trends.
As the report describes, "in the past year, market volatility in a number of nations, and particularly in China, has led buyers to seek homes in economically and politically stable locations in the West as a hedge against market uncertainty at home." Global citizenship is targeted as a popular tool, functioning to offer "greater stability and security, tax efficiency, ease of travel, higher standard of living, increased options for children's education, and investment opportunities that may not otherwise be available."
While Sydney and Vancouver offer property values significantly less expensive than London or New York, the Seattle area represents a desirable alternative option to those looking in Vancouver, garnering much buyer interest as of late. "We are a market on the rise by virtue of our proximity and relative affordability" said Dean Jones, President and CEO of RSIR. "The Seattle/Bellevue metro area is on the map overseas, particularly in mainland China. Global citizenship isn't a trend – it's a movement and local real estate brokerages are evolving to respond to this emerging demand."
RSIR's evolution included the establishment of the firm's "Asia Desk" at the Connoisseurs of Life Showroom in Kirkland, Washington late last year. It provides a network of bilingual real estate brokers fluent in Mandarin, Cantonese or Korean who are experienced in working with the unique demands of overseas home buyers and features an authentic tea room to host private meetings with distinguished international guests. Further, RSIR produced a feature documentary entitled "East Meets West," to highlight trends associated with foreign demand in the Pacific Northwest.
Jones has also become active in international industry associations including the Washington State China Relations Council, the Hong Kong and Greater China Association of Washington and the Asian Real Estate Association of America.
Following market movement and demand, RSIR has likewise produced various blog posts highlighting significant trends, including a look at the sky-high prices new high rise condos have garnered in downtown Seattle and a feature on Chinese buyers outranking Canadians in US home purchases.
Other key findings from the report:

12% of second homes purchased by emerging market ultra-high net worth (UHNW) individuals (those who reside in BRICS nations) are located outside their country of residence.
Recent fluctuations in emerging market nations are leading a new generation of UHNW investors to consider investing in luxury residential real estate in Western markets.
20 nations in Europe and the Americas now offer citizenship or residency programs to individuals willing to invest in domestic residential real estate. And several more, including St. Lucia, are considering such programs.
Many residential real estate markets with such programs – including Sao Paulo, Malta, and the Bahamas – offer good long-term investment opportunities.
According to Philip White, president and chief executive officer, Sotheby's International Realty Affiliates LLC, this joint report was designed to provide an understanding of the trends driving buying decisions of ultra-high net worth individuals around the world. "The research reveals trends that go beyond traditional motivations and help guide real estate investments that contribute to long-term wealth," he said. "It underscores the important role real estate plays in a larger strategy to build a valuable asset portfolio."
Download the report here.
About Realogics Sotheby's International Realty (RSIR) – Artfully uniting extraordinary homes with extraordinary lives, RSIR is a leading global sales and marketing brokerage firm in the Pacific Northwest. Recognized by the Puget Sound Business Journal amongst the fastest-growing private companies in Washington State for 2012, 2013 and 2014, the boutique real estate company of 120+ brokers consistently ranks among the top producing firms within the markets that it serves with branches in downtown Seattle, Bainbridge Island, Kirkland and Issaquah. (http://www.rsir.com)
About Wealth-X – Wealth-X is the global authority on wealth intelligence, providing sales, marketing, strategy and compliance solutions to clients in the financial services, luxury, not-for-profit and education sectors. Its award-winning research and thought leadership are regularly cited by the world's media such as CNBC, Financial Times, Thomson Reuters and BBC. Wealth-X has more than 250 staff in 10 locations, including Singapore, London and New York. (http://www.wealthx.com)
About Sotheby's International Realty Affiliates LLC – The Sotheby's International Realty network currently has approximately 17,000 sales associates located in approximately 800 offices in 61 countries and territories worldwide. Founded in 1976 to provide independent brokerages with a powerful marketing and referral program for luxury listings, the Sotheby's International Realty network was designed to connect the finest independent real estate companies to the most prestigious clientele in the world. Sotheby's International Realty Affiliates LLC is a subsidiary of Realogy Holdings Corp., a global leader in real estate franchising and provider of real estate brokerage, relocation and settlement services. In February 2004, Realogy entered into a long-term strategic alliance with Sotheby's, the operator of the auction house. The agreement provided for the licensing of the Sotheby's International Realty name and the development of a full franchise system. Affiliations in the system are granted only to brokerages and individuals meeting strict qualifications. Sotheby's International Realty Affiliates LLC supports its affiliates with a host of operational, marketing, recruiting, educational and business development resources. Franchise affiliates also benefit from an association with the venerable Sotheby's auction house, established in 1744. (http://www.sothebysrealty.com)
Editors Notes: For high-resolution photography contact Andrea Savage at 206.448.5752 or email Andrea.Savage(at)RSIR(dot)com.