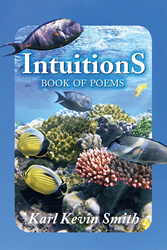 Smith's imaginative visions of the world around him open a window to a fresh perspective of timeless subjects
St. Louis, MO (PRWEB) August 17, 2015
For Karl Kevin Smith, poetry isn't just a break from the pressures of daily life – it's an expression of his soul, the ultimate outlet for his creativity.
Keenly observant and emotionally intelligent, Smith sees things in the world that many miss. His new collection of poems, "IntuitionS," contains insightful reflections on a wide span of topics and ideas. From nature to romance, musings on the sacrifices required by war, considerations of God and the afterlife, and everything in between, Smith leaves no stone unturned.
With such a broad range of topics, readers of all kinds will find something that speaks to their sensibilities. Smith's imaginative visions of the world around him open a window to a fresh perspective of timeless subjects.
For more information, visit http://www.karlkevinsmith.com.
IntuitionS
By Karl Kevin Smith
ISBN: 978-1-49695-851-8
Available in softcover, hardcover, e-book
Available on Amazon, Barnes & Noble and AuthorHouse
About the author
Karl Kevin Smith resides in Belleville, Ill. His first poetry collection, Eclectic Whispers, was published in 2010.
For review copies or interview requests, contact:
Drew Tharp
317.602.7137
dtharp(at)bohlsengroup(dot)com