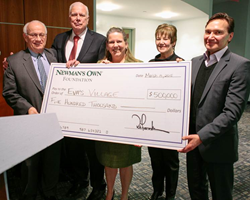 We are very excited about the e-commerce business and are thankful to Tom Indoe for his leadership and Newman's Own Foundation for its support
Paterson, New Jersey (PRWEB) August 17, 2015
Eva's Village is celebrating "The Path to Success" at its Annual Benefit Gala on November 5, 2015, at The Grove in Cedar Grove. Eva's Village is a widely respected comprehensive anti-poverty organization which has been serving New Jersey's poor for 33 years. Their mission is to feed the hungry, shelter the homeless, treat the addicted and to provide free medical and dental care to the poor. Among the highlights of this year's Gala will be the presentation of the "Where Hope Begins" Award to Newman's Own Foundation and its retired President, Tom Indoe. In March 2015, Eva's Village received a $500,000 grant from Newman's Own Foundation to allow Eva's Village to launch an e-commerce cookie and brownie business which will be guided by Tom Indoe, retired president and COO of Newman's Own. The e-commerce business is expected to be up and running in the fall and will provide a unique opportunity to build a source of job opportunities and funding to help Eva's Village continue its mission to help people in need. "We are very excited about the e-commerce business and are thankful to Tom Indoe for his leadership and Newman's Own Foundation for its support," stated Marie Reger, executive director at Eva's Village. "We are pleased to honor them with our 'Where Hope Begins' award."
In recognition of their partnership with Sal Lauretta for Men over the past six years, Eva's Village has chosen the Lauretta family as the Community Service Honoree for this year's Gala. For the Laurettas, the concept of a "family business" extends beyond the traditional definition to embrace the entire community, and their commitment to service and philanthropy is evident in all they have done for Eva's. In recognition of their generosity to Eva's Village, the Laurettas received the "Extraordinary Good Works" Award from the Commerce and Industry Association of New Jersey earlier this year.
The Msgr. Vincent E. Puma Memorial award recognizes the compassion and perseverance in continuing the vision of Msgr. Puma, and will be awarded this year to the Renzulli Family. Volunteers are the heart and soul of Eva's Village, and there are few who exemplify the true spirit of volunteerism as completely as the Renzullis. The family has been a part of the Eva's community for 13 years, dedicating endless hours in our Community Kitchen and serving as our welcoming committee and lead volunteers each year on Christmas Day, and Nora Renzulli shares her warm and welcoming smile with guests in our kitchen each and every Friday and is a regular volunteer at many Eva's events. Nora was recently recognized for her dedication with the "BD® Paterson Patriot Award" at the New Jersey State Governor's Jefferson Awards for Public Service this past spring.
Rapid Pump & Meter Service Co., Inc. and Machinery Services Corp., Paterson businesses owned by Rich Taylor, are the event sponsors of the 2015 Annual Benefit Gala for Eva's Village. The Taylor family has been very supportive of Eva's Village and its founder, Msgr. Vincent E. Puma since they served their first lunch almost 32 years ago. They have proudly operated their successful businesses in Paterson, NJ, since 1978 and have always believed in giving back to the community. "It is an honor for us to help build Msgr. Puma's vision providing for those in need," states Rich Taylor.
Founded by Msgr. Vincent E. Puma in 1982 as a response to the poor and homeless in Paterson, NJ, Eva's Village is a non-profit comprehensive social service organization. Through almost three decades of service, Eva's Village has established a unique record in facing community challenges and changing the lives of the hungry, homeless and addicted. It has grown from a simple soup kitchen to become the most respected anti-poverty program in New Jersey. It now includes fourteen integrated programs housed in numerous buildings spanning several city blocks in downtown Paterson.
For more information on the "Vision of Hope: Path to Success" Gala Dinner (November 5, 2015) contact: Joey Mazza, Special Events Coordinator – Phone: (973) 523-6220 Ext. 235, Fax (973) 825-7297. The Eva's Village Benefit Gala will be held at The Grove, Cedar Grove, New Jersey.
To donate to this NJ Charity, or for more information about Eva's Village, call (973)-523-6220, go to http://www.evasvillage.org or write to: Heather Thompson, Director of Development, Eva's Village, 393 Main Street, Paterson, NJ, 07501.
For more information about Rapid Pump & Meter Service Co., Inc. or Machinery Services Corp., call 973.345.5600, go to http://www.rapidservice.com/ or write to: Rapid Pump & Meter Service Co., Inc. or Machinery Services Corp., 285 Straight Street, Paterson, NJ, 07509.