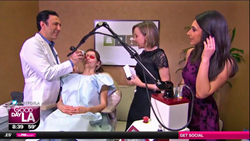 Los Angeles, CA (PRWEB) August 17, 2015
On August 13, 2015, Harper's Bazaar Magazine posted "It Only Took One Sunburn to Ruin My Face Forever," one woman's account of how a common sunburn turned into an ongoing skin battle. The woman received a mild sunburn and tried her own skin regimen to facilitate the healing process. However, her burn persisted and left her face with brown patches along her cheeks and forehead. Several dermatologists were consulted and provided their own diagnoses, suggesting she had melasma or a possible hormonal imbalance caused by estrogen. She was offered several treatments, including skin peels, chemical exfoliation, and a laser procedure that targeted the millions of microscopic areas of the skin that were damaged with the goal of encouraging a comprehensive replacement of damaged cells. [see: goo.gl/Xw23id]
"For many years we've treated sun damaged skin at our clinic," says Dr. Simon Ourian, Medical Director of Epione Beverly Hills. "I am glad to see that the idea of a 'healthy tan' has lost considerable popularity. I believe it's important for parents to be very conscientious about protecting their children's skin, not just for the obvious reason of preventing a sunburn but to instill the notion that sun protection is vital. Hopefully this practice will then be carried into adulthood."
The Harper Bazaar Magazine's article urges people to ensure proper skin care practices. While the unfortunate woman in the story will have to continue a long, slow, and steady skin regimen, the article uses her experiences to urge people to practice proper and preventative skin care regimens that will have positive long term impact. Specifically, readers are advised to apply and re-apply sunscreen daily, all year around, regardless of the weather.
"Sun damage typically accumulates over time," says Dr. Ourian. "We offer several treatment modalities to address the effects of sun damage. This damage may include discoloration, as well as fine lines and wrinkles."
Dr. Ourian has been a pioneer in laser technology and non-invasive aesthetic procedures including UltraShape, VelaShape, Restylane, Juvéderm, Radiesse, Sculptra, and CoolSculpting. These treatments are used for the correction or reversal of a variety of conditions such as acne, acne scars, skin discoloration, wrinkles, unwanted fat, stretch marks, varicose veins, cellulite, and others. More information about treating sun damage can be found on Epione's website.