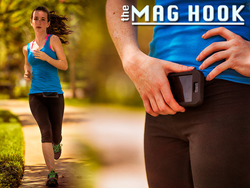 Winter Garden, FL (PRWEB) August 15, 2015
The Mag Hook is a simple yet innovative system of "fix and click" that stores the phone magnetically at the waist band. It offers a solution for anyone who needs quick and easy hands off access to their phone. The patent-pending design was created by Dennis Bard. "My wife and I enjoy rollerblading and jogging on our local trail but we were dissatisfied with the options on the market to secure our phones. We would end up carrying the phones in our hands." So one day he decided there had to be a better solution and this led to the creation of the Mag Hook.
The Mag Hook is currently a functional prototype. A magnetic smartphone case with companion a small flexible magnetic band that slips under the waistband and secures with a clip. It puts the smartphone right at users' fingertips without requiring belts, pouches or pockets. It stays securely attached while jogging but its utility cuts across fitness into everyday life. Everyone wants comfortable convenient one handed access to their phone.
Kickstarter campaigns operate under an "all-or-nothing" funding model so if the Mag Hook project doesn't reach its goal at the end of 30 days it might be a long time before you see it on the market. To follow the project, be sure to find them on their Kickstarter page and Facebook. Spread the word to your social media networks and consider donating to help bring this project to life.
If you'd like more information about the Mag Hook Project please email dennis(at)themaghook(dot)com