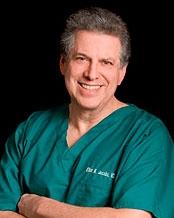 New York, New York (PRWEB) August 18, 2015
Today, Dr. Elliot Jacobs, one of the top plastic surgeons in New York, published the 150th post on his man boobs blog. This milestone underscores the fact that the board certified plastic surgeon is not just one of the country's leading experts on gynecomastia – enlarged male breasts – he invests in sharing what he has learned during more than three decades of successful practice in Manhattan as well.
"We were one of the first plastic surgery teams to treat gynecomastia successfully," Dr. Jacobs noted, "and we have continued to focus on male breast reduction as one of our specialties." The Park Avenue surgeon has perfected his approach over the years, creating his own instruments and incorporating new techniques such as fat grafting as they prove useful. He and his team perform hundreds of male breast reduction surgeries annually for adults and select teens. They also do revisions for patients who are disappointed with their results at the hands of less experienced surgeons.
Dr. Jacobs considers it part of his mission to share expertise with young plastic surgeons as well as guys who suffer the discomfort and embarrassment of man boobs. That's why it's important to him that his blog offers key insights that may not be available elsewhere. "We address many of the questions we hear from our patients, such as how exercise impacts man boobs," the plastic surgeon remarked. The blog also debunks myths, offers suggestions and examines timely concerns men may have such as whether certain medications – such as finasteride (Propecia and Proscar) used to treat baldness – can cause enlarged male breasts.
It's fitting that today's 150th blog post tackles the topic of the challenges of transitioning for transgender patients. With celebrities like Caitlin Jenner becoming more visible in the media, interest in what's known as "top surgery" – breast reduction or enlargement for transitioning patients – is growing steadily.
Dr. Jacobs wants male-to-female and female-to-male transgender individuals to know they are welcome in his practice. "Of course we perform the spectrum of cosmetic surgeries for the face, breast and body," he said. "But given our track record with breast reduction for men and women, plus breast augmentation, breast lift and nipple surgery, it's natural that transgender people would feel comfortable seeking us out."
###
Dr. Elliot Jacobs is a board certified plastic surgeon with offices in Manhattan. He performs safe, state-of-the art cosmetic surgery for men and women. Contact him at 212-570-6080 or visit http://www.plasticsurgeonnewyork.com and http://www.gynecomastianewyork.com.