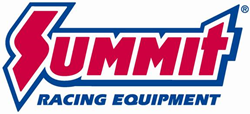 Tallmadge, OH (PRWEB) August 18, 2015
Why go through all the fuss and bother of making AN braided hose assemblies when Summit Racing will do all of the hard work? We now offer Custom AN Hose Assemblies featuring Summit Racing hose and USA-made hose ends.
Summit Racing's hose assemblies are professionally assembled and pressure tested at 100 psi—no more worrying about leakage. The hose assemblies can be ordered by the inch and are available in lengths up to 240 inches (20 feet). Most hose assemblies will ship within two business days of placing an order. Customers can choose from several types of Summit Racing hose:
Stainless Steel Braided Hose
This hose features a synthetic-nitrile inner tube with a partial stainless steel reinforcement inner braid. We also added a heavy-duty full stainless steel braid on the outside, making it exceptionally lightweight, flexible, and durable. The hose is designed to handle gasoline, oil, or coolant. It is available in -4, -6, -8, -10, -12, and -16 AN sizes.
Braided Nylon Hose
This SAE 30R7-rated hose is designed for use with gas, oil, diesel, and other fluids. It uses a high grade nitrile inner core compound to better resist fuel damage than any other nylon hose on the market. It can handle heat levels up to 275 degrees F and has a maximum working pressure of 350 psi. It is available in black and red in -4, -6, -8, -10, -12, and -16 AN sizes.
Premium Braided Nylon Hose
This hose is designed to handle E-85 fuel as well as additives currently found in diesel, ethanol, and other alcohol based-fuels. The four-ply hose is lighter than stainless braided hose, and features an FKM fluoroelastomer lining with stainless steel braid reinforcement. It is burst pressure-rated to 500 psi, and eliminates fuel permeation under extreme conditions that lead to sour gas odors and dry, cracked hose. It's available in -6, -8, and -10 AN sizes.
Aluminum Hose Ends are available in six different angles: Straight, 45°, 90°, 120°, 150°, and 180°. Customers have a choice of traditional red/blue anodized plus black anodized and nickel plated. Available sizes: -4, -6, -8, -10, -12, and -16 AN plus multiple NPT and banjo fitting sizes.
Please note that Summit Racing custom hose assemblies must be ordered by the inch. Assemblies are available from eight to 240 inches long. Assembled hose must be ordered with at least one hose end.
These Custom Hose Assemblies are currently available only by contacting a Summit Racing Sales Rep at 1-800-230-3030. We're open 24 hours a day/seven days a week, so customers can order hose assemblies anytime they like.
Summit Racing Equipment
SummitRacing.com
1-800-230-3030