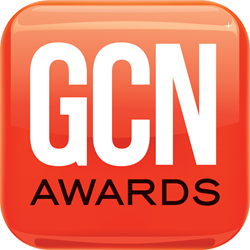 The mix of teamwork and technology in these projects shows just how much innovation and creativity can be found in the government IT community.
Vienna, VA (PRWEB) August 17, 2015
GCN is pleased to announce the winners of the 2015 GCN Awards. Ten winning projects and five honorable mentions are being recognized for outstanding teamwork and innovative IT achievement in the past year.
"Our judges picked projects from across federal, state and local government agencies," said GCN Senior Editor Paul McCloskey, "Their choices highlight government's sophisticated uses of cloud-based tools and services, mobile networks and data analytics to build innovative projects in support of critical mission—everything from an app that helps junior Navy officers learn the ropes to an analytics solution that helps curb the exploitation of children. The mix of teamwork and technology in these projects shows just how much innovation and creativity can be found in the government IT community."
The 2015 GCN Award Winners:
Biomedical Research Informatics Computing System
National Institutes of Health
LA County Child Care Fraud Detection Solution
Los Angeles County, California
eDIVO Mobile App
Department of the Navy
FBI Next Generation Identification System
Department of Homeland Security
Fiscal Note Agency Response System
State of Utah
Global Combat Support System
Department of the Army
National Child Victim Identification Program
Department of Homeland Security
Non-Emergency Contact Center
City of Philadelphia
Pennsylvania Treasury Transformation Project
Commonwealth of Pennsylvania
Swipe to Donate Life Program
Ohio Department of Public Safety
The following projects were awarded 2015 Honorable Mentions for IT achievement:
Communications Facility for Southwest Asia Theater
Department of the Army
En Route Automation Modernization (ERAM) Platform
Federal Aviation Administration
Next Generation Network & Security Program
Fairfax County, Virginia
Purchase Card Analytics Program
U.S. Citizenship and Immigration Services, DHS
Web Modernization and Open Data Project
New Jersey Department of Health
The winners will be profiled in the October issue of GCN and on GCN.com. They also will be honored at the GCN Awards Gala on Wednesday, October 14th, at the Ritz-Carlton in Tyson's Corner, VA. Now in its 28th year, the GCN Awards Gala is one of the public sector IT community's most anticipated and prestigious events.
For more information about this year's winners and honorable mentions, please visit gcn.com/awards2015.
For more information on GCN Gala sponsorship opportunities please visit gcn.com/gala.
About GCN
GCN covers the technology, tools and tactics that make innovative IT possible in the public sector. It's editorial mission is to deliver technology assessments, recommendations and case studies to support the public sector IT managers who are responsible for the specification, evaluation and selection of technology solutions. GCN is the only media brand that serves the full scope of technology decision makers in the federal, state & local and education markets (FED/SLED). gcn.com.
###