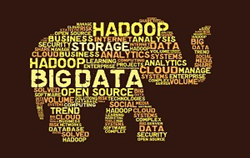 I bet the farm on Hadoop; now what?
Boulder, Colo. (PRWEB) August 17, 2015
Enterprise Management Associates (EMA), a leading IT and data management research and consulting firm, today announced it will host a webinar titled "Taming the Beast: Extracting Value from Hadoop," featuring John Myers, managing research director at EMA, and Ingo Mierswa, CTO at RapidMiner.
After deploying a data lake, organizations often reflect "I bet the farm on Hadoop; now what?" They have broken down the silos, mashed up structured and multi-structured data, and set up the Hadoop clusters. However, the investment has yet to pay off. The CIO wants answers. The CMO wants actionable information. The CEO wants results. Organizations need information on how to deliver on the promise of big data analytics. Where are the pitfalls to avoid? How are other organizations succeeding? What are best practices for implementing advanced/modern analytics?
This webinar is intended to help answer these questions, as well as address:

How to get a Hadoop reality check for those stuck in the hype of the data lake
Empowering analysts to anticipate the opportunities and risks of big data analytics
Guidance on monetizing insights buried in multi-structured data
Building and deploying predictive models spanning cloud and on-premises environments
The webinar is Thursday, August 20 at 11:00 a.m. Eastern. Those who wish to attend can register at: http://research.enterprisemanagement.com/extracting-value-from-hadoop-webinar-pr.html
About EMA
Founded in 1996, EMA is a leading industry analyst firm that specializes in providing deep insight across the full spectrum of IT and data management technologies. EMA analysts leverage a unique combination of practical experience, insight into industry best practices, and in-depth knowledge of current and planned vendor solutions to help their clients achieve their goals. Learn more about EMA research, analysis, and consulting services for enterprise line of business users, IT professionals and IT vendors at http://www.enterprisemanagement.com or blogs.enterprisemanagement.com.