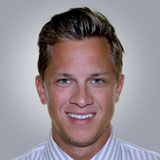 Tampa, FL (PRWEB) August 17, 2015
Tampa orthodontist Robert "Nick" Reynolds, DMD, joins the Coast Dental team to provide traditional braces, clear ceramic braces, Invisalign®, ClearCorrect™ and more orthodontic services in Lakeland, New Tampa, and Plant City. Call 1-800-32-SMILE today to schedule a complimentary orthodontic consultation. Patients will leave the consultation with a clear understanding of how braces or aligners can straighten their teeth, how much it costs, and how the cost can be worked into their family budget.
Dr. Reynolds is a member of the American Association of Orthodontists and the American Dental Association. He holds multiple degrees including a Certificate of Advanced Graduate Study (CAGS) in Orthodontics from Jacksonville University in Jacksonville, FL; Advanced Education in General Dentistry (AEGD) from Nova Southeastern University College of Dental Medicine in Davie, FL; Doctor of Dental Medicine (DMD) from Tufts University School of Dental Medicine in Boston; and a B.A. in Biology from Rollins College in Winter Park, FL.
While getting braces is a rite of passage for many teenagers, the American Association of Orthodontists actually recommends children have their first appointment while in elementary school. Early treatment can save time and money later. And braces aren't just for kids; one in five orthodontic patients is an adult. Coast Dental offers quality orthodontic care for patients of all ages.
Dr. Reynolds coordinates orthodontic care with both Coast Dental and non-Coast Dental general dentists and is accepting new patients at these three locations:
Coast Dental New Tampa
19048 Bruce B. Downs Blvd.
Tampa, FL 33647
(813) 972-1201
Coast Dental Plant City
1912 W. Reynolds St.
Plant City, FL 33563
(813) 567-7001
Coast Dental South Lakeland
4744 S. Florida Ave.
Lakeland, FL 33813
(863) 644-1226
Coast Dental accepts more than 200 types of insurances, plus offers financing plans. Since dental insurance often does not cover the cost of braces, Coast Dental is offering special savings on both traditional braces and clear ceramic braces. Monthly payments start at $99 with no money down.*
For more information about braces, clear aligners and other options to straighten crooked teeth, please visit CoastDental.com or call Coast Dental at 1-800-32-SMILE.
###
About Coast Dental
Coast Dental, P.A., with its professional associations, is one of the largest providers of general and specialty care in the United States with affiliated practices operating as Coast Dental and SmileCare in Florida, Georgia, California, Nevada and Texas. Coast Dental Services, LLC is a privately-held practice management company that provides comprehensive, non-clinical business and administrative services to its affiliated practices. The company is headquartered in Tampa, Florida. For more information, visit CoastDental.com.
Disclaimers:
*Braces Offer: Restrictions apply. Offer valid for patients without insurance or discount dental plans. PRADO/PRADT. ADA D8080/D8090. $3,500 value. Offer good in absence of gum disease. Standard 24-month treatment program with metal brackets; appliances not included. Ask office for promotional pricing on cases extending beyond 24 months. Monthly payment plan is based on 48-month CareCredit financing with 14.9% APR and is available to qualified applicants. Alternative financing also available. Consultation: BRCON. D9310. $126 value. Ask office for details. Minimum fee only. Fee may vary with complexity of case. THE PATIENT AND ANY OTHER PERSON RESPONSIBLE FOR PAYMENT HAS A RIGHT TO REFUSE TO PAY, CANCEL PAYMENT OR BE REIMBURSED FOR PAYMENT FOR ANY OTHER SERVICE, EXAMINATION OR TREATMENT THAT IS PERFORMED AS A RESULT OF AND WITHIN 72 HOURS OF RESPONDING TO THE ADVERTISEMENT FOR THE FREE, DISCOUNTED FEE OR REDUCED FEE SERVICE, EXAMINATION, OR TREATMENT. Offers expire 10/31/15. The dentists and hygienists are employees or independent contractors of Coast Florida P.A. or Coast Dental, P.A., (Adam Diasti, DDS, DN12490). © 2015 Coast Dental. All rights reserved. CD-102353