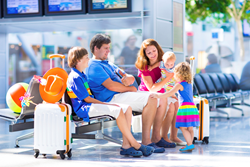 LINCOLN, R.I. (PRWEB) August 17, 2015
There is still time to go on vacation this summer, so Amica Insurance is sharing some tips to help protect your belongings while traveling.
Amica suggests the following when going on vacation:

Avoid bringing large amounts of cash on the trip. Using one or two credit cards or travelers' checks is a safer option.
Leave valuable jewelry, electronics or collectibles at home.
Label each piece of luggage, inside and out, with your name, address and telephone number.
Keep cash, credit cards, passports and airline tickets in the hotel safe, and make sure the hotel door is always closed securely. If you must carry cash or credit cards, inside pockets and shoulder bags across the chest are the safest places to store them.
The USA.gov website has these additional tips for protecting belongings while traveling:
Remember to bring a photo identification card and updated passport if leaving the United States.
Contact your doctor to see if any immunizations are necessary before traveling to a foreign country.
Bring prescription medications, and keep them in their original, labeled containers. Have copies of your prescriptions, including the generic names.
If traveling by air, review the Transportation Security Administration's list of prohibited items to bring on airplanes.
About Amica Insurance
Amica Mutual Insurance Co., the nation's oldest mutual insurer of automobiles, was founded in 1907. The company, based in Lincoln, Rhode Island, is a national writer of auto, home, marine and umbrella insurance. Life coverage is available through Amica Life Insurance Company, a wholly owned subsidiary. Amica employs more than 3,400 people in 44 offices across the country. For more information, visit Amica.com.
CONTACT: Vince Burks, Corporate Communications, 50 Amica Way, Lincoln, RI 02865-1155, 800-652-6422, ext. 24563
Twitter: Amica
Facebook: Amica Mutual Insurance Co.