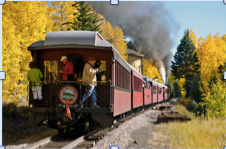 Antonito, Colorado (PRWEB) August 17, 2015
The best way to see Colorado's annual fall color show is to go where no one else goes, and leave the driving to someone else. That's where the Cumbres & Toltec Scenic Railroad comes in.
Twisting and turning, the railroad curls for 64 miles through some of the most beautiful stretches of aspens on the planet as it snakes from Antonito, Colorado to Chama, New Mexico, crossing the state line 11 times. It is the highest and longest steam railroad in North America. And the most authentic – an historically accurate re-creation of 19th Century railroading, a sort of "Williamsburg on wheels."
Built in 1880, the National Historic Landmark railroad has been jointly owned and operated by the states of Colorado and New Mexico for the past 45 years. While the ride is spectacular at any time, it is especially gorgeous in the fall when the aspens put on their annual show.
The tracks of the Cumbres & Toltec go where no roads go, past tens of thousands of aspen trees, climbing from 7,888 feet in Antonito to the top of scenic Cumbres Pass at 10,015 feet, then back down to Chama at 7,860 feet.
Fall in Southern Colorado and Northern New Mexico
There are 1.9 million acres of aspen trees in Colorado – over one billion trees that if placed together would cover Rhode Island and Delaware. Aspen trees in Colorado grow from 6,500 to 10,500 feet in elevation. Although many factors make leaves turn color, as a general rule, the higher the elevation, the sooner the leaves turn gold. That means that over a period of time, you can often see a variety of shades of color on one mountainside, with deeper golds on top at 10,000 feet, blending to pale yellow in the 8,000 foot range.
Aspen leaves don't just turn color in the fall, they positively glow in a luminescent bright yellow gold, almost as if they had their own light source. The leaves are small, delicate and tissue-thin with an aerodynamic shape that keep them in perpetual motion. Even a slight breeze sends every leaf on the tree shimmering. With all the moisture Colorado and New Mexico have received in 2015, experts are predicting a particularly good show this fall.
Riding the Rails: Chama to Antonito
The scenic journey unfolds the moment you leave the station with a gradual climb into the mountains through the rolling meadows and aspens of the historic Lobato sheep ranch and over a high trestle that spans rushing Wolf Creek.
As the train climbs ever higher through groves of aspen trees, the view backward reveals the entire Chama Valley, considered the most scenic alpine area in all of northern New Mexico. Here, the locomotive is blowing huge plumbs of black smoke as it chugs up a 4 percent grade to 10,015 foot high Cumbres Pass, the highest mountain pass reached by rail in the United States. The train hugs a sheer rock face as it reaches the summit, where there are alpine meadows sprinkled with gold aspens, set off by dark green conifers that frame the spectacular vistas.
One of the things that makes the C&TSRR unique is that many of its original buildings remain along the route. After the pass comes Tanglefoot Curve, followed by 137 foot high Cascade Creek Trestle, the highest on the line. The train then pulls into the rustic townsite of Osier, Colorado, which is the midway point and a stop for a delicious hot lunch of turkey or meatloaf.
The train from Antonito will meet the Chama train here. Passengers from Chama can return to Chama, or continue on the journey to Antonito.
For those continuing, the train leaves Osier and approaches scenic Toltec Gorge. Inaccessible by car, here there are two long tunnels (Mud Tunnel and Rock Tunnel) and Phantom Curve, named for a rock spire that casts a ghostly shadow. The rocky gorge plunges 800 feet and the train snakes carefully along a narrow ledge where the view is straight down.
From here, the terrain softens into hills as the train descends through acres and acres of aspen trees. Ahead are magnificent views of Colorado. The abandoned section town, Sublette, New Mexico, is still used as a water stop for the steam locomotives. Soon the hills flatten into a broad plain punctuated by distant high peaks and the train rolls into its terminus at Antonito, Colorado.
The train departing from Antonito to Chama has, of course, experienced the same scenery, only in reverse.
LOTS OF OPTIONS!
The Cumbres & Toltec offers lots of options for passengers, both in the type of car you ride and in the route you take.
PARLOR CARS: Step aboard the Victorian-era elegance of these meticulously restored Parlor cars – a level of luxury, service, and comfort that once was reserved for such dignitaries as railroad barons and mining kings. Parlor cars offer lounge style comfort and panoramic windows. Personal attendants serve a continental breakfast of fresh fruit, delectable confections, fresh coffee, hot chocolate, and your choice of juices. There are snacks and soft drinks available throughout the afternoon and passengers receive a complimentary souvenir. Parlor accommodates adults only (21yrs+).
DELUXE TOURIST CARS: Ride into history aboard the newly restored Tourist cars. Enjoy an elegant setting with extra room and individual seating for your comfort. Snacks and gifts are available on board. Feel free to move about the trains and experience the Open-Air Gondola.
COACH CARS Relax, open your window and take in the fresh Rocky Mountain air. Our classic Coach cars offer comfortable bench seating. Snacks, gifts, and souvenirs are available on board. Feel free to move about the train and experience the Open-Air Gondola.
OPEN-AIR OBSERVATION GONDOLA CARS (For all Passengers): Provides unobstructed views, great fall color photo opportunities, and a chance to spot some of the abundant wildlife in the area. Throughout the trip you'll find friendly, informative guides/docents to take you on this journey of the Authentic West…. as it was 135 years ago, as it is today.
LUNCH MENU: All full-day trains from both directions stop at Osier Station for a one-hour lunch. All lunches are "All You Can Eat" and include a large, serve-yourself salad bar and drinks. There are two cafeteria style full dinners.
Turkey Dinner Line
Roast Turkey with Cornbread Dressing
Mashed Potatoes & Turkey Gravy
Green Beans Whole Cranberry Sauce
Homemade Yeast Bread with Butter
Meatloaf Dinner Line
Homemade Meatloaf
Mashed Potatoes & Brown Gravy
Corn Peas & Carrots
Homemade Yeast Bread with Butter
SCHEDULE:
Full Day Excursions operate until October 18
There are three options for daily trains leaving from Antonito or Chama:
Trip 1: Antonito to Chama by motor coach; return by train. 8:30 a.m. to 4:45 p.m.
Trip 2: Antonito to Chama by train; return by motor coach. 10 a.m. to 5:30 p.m.
Trip 3: Antonito to Osier by train; return by train. 10 a.m. to 4:45 p.m.
Trip 4: Chama to Antonito by motor coach, return by train. 8:30 a.m. to 4:05 p.m.
Trip 5: Chama to Antonito by train; return by motor coach. 10 a.m. to 5:50 p.m.
Trip 6: Chama to Osier by train; return by train 10 a.m. to 4:05 p.m.
RESERVATIONS: To make reservations, go to: http://www.cumbrestoltec.com