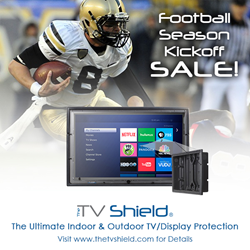 We want to give football fans the chance to BBQ and watch TV by the pool… With the free outdoor speaker kit, they can hear every call, see every throw and have a blast all season – no matter how loud their party gets
Orlando, Fl. (PRWEB) August 17, 2015
Protective Enclosures Company (PEC) is warming up for football season and ready to hit the field with a huge sale on The TV Shield ® website. Shoppers that spend $599 or more on the website between August 14th (starting at 5:30pm EST) and August 31st (until 3:00am EST), can use the coupon code FOOTBALL15 to get a free outdoor audio speaker kit to go with their weatherproof TV enclosure, which is a $129.99 savings. "We want to give football fans the chance to BBQ and watch TV by the pool… With the free outdoor speaker kit, they can hear every call, see every throw and have a blast all season – no matter how loud their party gets," stated PEC, CEO, Justin King. Whether entertaining friends and family, or simply enjoying a relaxing day at home, The TV Shield paired with any universal LED, LCD, Plasma, or Smart flat screen TV is a wonderful feature for any deck, porch, patio, lanai or even RV for tailgating.
The TV Shield's ultra-clear Lexan ® cover (shield) is manufactured using shatter-resistant polycarbonate, the same material used to produce bulletproof glass. These durable front panels are now also available with Protective Enclosures Company's proprietary anti-glare coating for direct sun applications. The TV Shield weatherproof TV boxes are known for affordability, water-resistance and screen protection. The unit is manufactured in the USA using a HMWPE High Molecular-Weight Polyethylene plastic case (an outdoor plastic built to last 20 years or more). The TV Shield is also actively ventilated with two vents located on the upper side corners and can be ordered with a thermostatically controlled 36CFM 115V filtered fan system.
Built to defend TVs and displays against hot temperatures, cold climates, moisture, rain, dust, bugs, theft, tampering and more, Protective Enclosures Company's TV cases protect TVs and video displays in over 6500 residential and commercial environments in more than 15 countries worldwide. From Marriott, Trump International, Sheraton, Pepsi, Whole Foods, Six Flags, EverBank Field (home of the Jacksonville Jaguars), Bryant-Denny Stadium (the field at the University of Alabama) to Lansdowne Stadium (also known as TD Place where the Ottawa Redblacks play) and more, PEC's protective TV and display cases can be found just about anywhere.