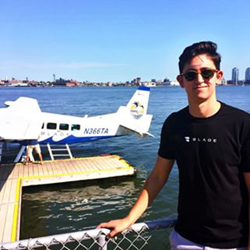 The feedback so far has been amazing, and we are considering sending additional aircraft to New York next summer.
Fort Lauderdale, FL (PRWEB) August 17, 2015
Tropic Ocean Airways, the largest seaplane operator in Florida and the Bahamas, has positioned a number of their aircraft in the New York area in order to meet the demand for short-distance aviation service to chic summer destinations such as Nantucket, Martha's Vineyard, Cape Cod, Fire Island, and the Hamptons. BLADE, a crowdsourcing aviation app, has been collaborating with Tropic Ocean Airways since June for operations in the Northeast.
BLADE recently introduced Tropic's new and spacious Cessna Grand Caravan EX aircraft, the fastest seaplane to the Hamptons. Marketed as the BLADE 950, Tropic's Caravan EX provides a quick, comfortable, and convenient way to get around the summer traffic, with a cabin that is four feet longer than the standard BLADE seaplanes, and a jet-style seating for 8 guests.
Guests flying between Manhattan, the Hamptons, and New England have the chance to experience the Tropic Ocean Airways service that they know and love from Florida and the Bahamas.
Rob Ceravolo, the CEO of Tropic Ocean Airways stated: "We are glad to be the preferred seaplane operator for BLADE in New York and the Hamptons. The addition of our fleet of Caravan EX's is truly a game-changer for market. The feedback so far has been amazing, and we are considering sending additional aircraft to New York next summer."
As summer soon will come to a close, the vacation doesn't have to end. Tropic Ocean Airways continues to operate their fleet of wheeled and amphibious aircraft out of Fort Lauderdale International Airport's FBO SheltAir as well as Miami Seaplane Base on Watson Island just off Downtown Miami.
Travel options throughout Florida, the Bahamas, and Cuba include exotic destinations such as Key West, Marathon, Marsh Harbour, the Berry Islands, Bimini, Andros, Eleuthera, and Havana.
About Tropic Ocean Airways:
Tropic Ocean Airways is further strengthening their position as a leading airline in South Florida and the Bahamas, providing clients with a premium travel experience. The airline has experienced rapid growth in the first few years of operation, to the point where today they are flying private charters, scheduled destination flights, cargo, and direct to yacht provisioning services.
Founded in 2009 by US Navy TOPGUN Graduate Rob Ceravolo, Tropic Ocean Airways LLC is an FAA-certified air carrier specializing in private terminal service throughout Florida the Caribbean, and New York. Tropic Ocean Airways fleet of late-model Cessna Caravan Amphibians and wheeled aircraft are handled by highly experienced military aviators and seaplane instructors, providing service to private travelers as well as companies and organizations within the yachting and boating industry.
For more information please visit our website at http://www.flytropic.com or our sites on Facebook.com/tropicoceanairways; Twitter.com/flytropic; Instagram.com/flytropic
For further information contact: Tropic Ocean Airways mail: media(at)flytropic.com