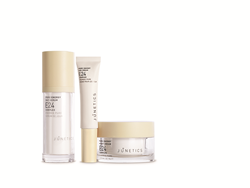 Long Island City, NY (PRWEB) August 17, 2015
Nikos Mouyiaris, founder and CEO of Mana Products, Inc. a world leader in prestige beauty product development & manufacturing, proudly announces the launch of JUNETICS, a Relationship Marketing company offering innovative and cutting edge beauty products through a network of individual Associates. The company's official launch took place at a two day event at the Cosmopolitan Hotel in Las Vegas, NV, where JUNETICS Associates learned how to build and grow their own beauty businesses.
JUNETICS is a brand built on breakthrough product technology and founded to help its Associates realize their professional and financial goals. The JUNETICS product assortment, starting with a collection of energy powered skincare, will continue to expand into other categories, allowing Associates to build their own Beauty Empires. By providing Associates all the tools and resources they need, JUNETICS not only transforms skin, but also transforms the lives of the entrepreneurs within its network. JUNETICS offers a highly lucrative compensation plan.
Beauty industry and Relationship Marketing veteran Jim Mannion, appointed as company president in April 2015, says, "What I love about Junetics is that we have the power of Mana, a company that has been the force behind some of the world's most successful beauty brands, behind our product development and manufacturing. This gives us the unique ability to create fantastic products, quickly and seamlessly, so we are able to put more money into our highly lucrative compensation plan for our Associates."
JUNETICS offers the world's first Energy Powered Skincare line, created in the bold pursuit of ageless skin and on the radical discovery that all visible aging has a single underlying cause: decreased energy and decreased communication within the cells. Each of JUNETICS skincare products contains the brand's proprietary E24 Complex, which combines the best of revolutionary science and nature to reinvigorate the skin's own regenerative powers, revealing truly ageless looking skin. The E24 Complex stimulates intercellular communication to aid in the skin's fight against the aggressors of daily life, such as UV exposure, pollutants, dehydration and stress, with a propriety formula including:

Gluco-E, a pre-activated source of bio-energy, which helps energize skin cells and enhance cell-to-cell communication
Plant Stem Cells which provide regenerative power, energizing and antioxidant benefits
Copper & Amino Acids which help strengthen the skin's protein (collagen & elastin) network
Hyaluronic Acid & Silicium which help refine skin's architecture and provide intense, long-lasting hydration
The JUNETICS line is launching with three Pure Energy products that, when used together, deliver more hydrated and luminous skin that's softer and smoother after just seven days:

Pure Energy Day Serum: A weightless energizing serum that helps to restore smoothness and actively hydrate the skin. Helps to diminish fine lines and enhance radiance. ($98 // 1.0 oz.)
Pure Energy Night Cream: A super-concentrated, lightweight-nourishing cream that provides superior hydration and targets maximum recovery while skin is at rest. ($109 // 1.5 oz.)
Pure Energy Eye Cream: An energizing, light-textured cream delivered with a 5-point rollerball to reduce puffiness and to hydrate, firm and brighten the eye area. ($50 // 0.5 oz.)
JUNETICS products are available through individual JUNETICS Associates and online at http://www.junetics.com.
ABOUT JUNETICS
JUNETICS is the future of the beauty business: a Relationship Marketing company founded to help its Associates realize their dreams. Mana Products, Inc., a world leader in prestige beauty product development, is a founding partner, creating and manufacturing the groundbreaking JUNETICS products. JUNETICS products are available exclusively through the company's community of Associates and online at http://www.junetics.com. JUNETICS is headquartered in Long Island City, NY. For more information about JUNETICS and how to become an Associate, visit http://www.junetics.com.