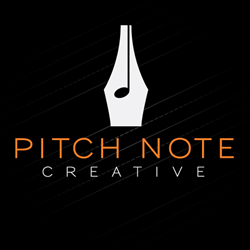 (PRWEB) August 16, 2015
Pitch Note Creative today announced its recent hire of Darrick Hays, who has joined the Pitch Note team as creative director. Darrick designs and illustrates for all branding mediums including product design, online content, video editing and animation, and social media.
Hays comes to Pitch Note with six years of experience in the design industry. Most recently he worked as the digital art director for Boxing Clever in St. Louis, MO, where his primary responsibilities included video editing and animation. He spent much of his time learning new tools and skills to further advance his skill-set and Boxing Clever's offerings in the world of video and motion design.
"After working with Pitch Note for a couple years as a freelance artist, I was eager to be brought in full time as their creative director. I'm ready for the new responsibilities and leadership opportunities this position will afford me as I advance my skill-set and career," says Hays. "I look forward to helping Pitch Note grow even more by adding my design skills and creativity to the team's extensive PR and marketing abilities. I'm excited to join a team that is excited about the work they do and dedicated to helping their clients grow their businesses."
"We are thrilled to have Darrick join our team," says Christine Linder, co-founder of Pitch Note Creative. "His personality and expertise are an exciting addition to Pitch Note. Hiring Darrick rounds out our service offerings, solidifying us as a one stop shop for all of our clients' public relations, marketing, design, video editing, and animation needs."
Hays is an expert in print and digital design with extensive skills in animation, video editing, and sound design, using programs such as Illustrator, Photoshop, After Effects, Premiere Pro and Adobe Audition. Hays was also recently featured in Adobe's Inspire Magazine after being asked to test a beta version of Adobe's new Character Animator.
Darrick is a graduate of Southern Illinois University-Edwardsville where he received his Bachelor of Fine Arts in Graphic Design with honors and a minor in Art History in 2009.
About Pitch Note Creative
Pitch Note Creative is a full-service public relations, marketing and design agency that offers small to medium sized businesses access to a team of experts that can fulfill all PR, marketing and design needs on time and on budget. Our focus is to under-stand our client's business goals and to create measurable solutions that generate positive results to our client's bottom line, all while pushing our clients with fresh and progressive ideas. That translates to how we uniquely approach every project and every client.