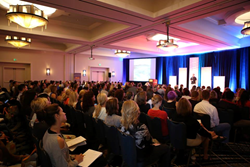 Strategic brand building is a core pillar for our business subscribers.
San Luis Obispo, CA (PRWEB) August 14, 2015
MINDBODY, Inc. (NASDAQ:MB), has announced that Denise Lee Yohn, a leading authority on brand building and positioning, will serve as the Keynote Speaker for the 2015 BOLD MINBODY Conference.
The BOLD MINDBODY Conference represents MINDBODY's annual user conference, providing attending subscribers with critical educational and networking experiences designed to fuel business growth and success. The program, led by industry leaders, covers key topics needed to thrive within the competitive wellness industry market – from the latest trends in consumer marketing and social media, to selling strategies and strategic business partnerships.
Denise Lee Yohn's keynote presentation, titled "What Great Brands Do," will dive into seven key brand-building principles that separate the leaders from the pack. In her twenty-five years of experience in positioning exceptional brands, Denise has worked with world-class companies including Sony and Oakley, and has delivered inspirational workshops, presentations, and keynote addresses to business leaders across diverse industries.
"Strategic brand building is a core pillar for our business subscribers," said Rick Stollmeyer, MINDBODY CEO and Co-founder. "Denise has deep branding expertise and a demonstrated talent for inspiring audiences. We're thrilled that she'll be helping our subscribers to challenge and elevate their brands in ways that keep them on the leading edge of their industry."
About MINDBODY
MINDBODY is the leading provider of cloud-based business management software for the wellness services industry, with over 45,000 local business subscribers in 132 countries and territories. These subscribers provide a variety of wellness services to over 25 million active consumers. MINDBODY's integrated cloud-based business management software and payments platform helps business owners in the wellness services industry run, market and build their businesses. MINDBODY also helps consumers more easily evaluate, engage and transact with these businesses, enabling them to live healthier and happier lives. mindbodyonline.com
© 2015 MINDBODY, Inc. All rights reserved. MINDBODY, the Enso logo and Love Your Business are trademarks or registered trademarks of MINDBODY, Inc. in the United States and/or other countries. Other company and product names may be trademarks of the respective companies with which they are associated.