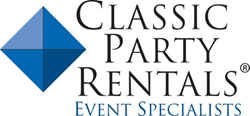 Carmel, CA (PRWEB) August 17, 2015
Classic Party Rentals, the nation's leading event rentals and services provider, set the scene at the 18th annual Bonhams Quail Lodge Auction on August 14th, 2015 at Quail Lodge & Golf Club. This historic event, which took place during the famous Monterey Peninsula/Pebble Beach Car Week, was outfitted with tenting and distinctively fashionable designer8* Furniture in presenting the remarkable lineup of exquisite automobiles.
"We are incredibly proud to have been chosen to help create the unparalleled Bonhams Auction experience for the elite automotive world," says Susan Kidwell, Vice President/General Manager, Classic Party Rentals San Francisco. "The event was historic for all involved and it was exhilarating to see our unique designs complement the rare and spectacular automobiles."
Bonhams Quail Lodge Auction was equipped with over 28,000 square feet of tenting, flooring and ground cover to house the stunning vehicles. Ambient lighting was set throughout the tents presenting the vehicles in their best light to bidders as well as on the stage for the main attraction. Attendees lounged on designer8* Furniture's wicker Lucia sofas and chairs and Jax silver metallic sofas. Elegant white Parson communal tables, Ashton white leather bar stools as well as Classic Party Rentals' line of wooden Descanso benches accented the premier collector motorcars.
About Classic Party Rentals
As the nation's leading event rentals and services provider with over 25 locations, Classic Party Rentals is the backbone for more than 150,000 events and celebrations per year. Their network of over 2,000 award winning event professionals is renowned for providing exceptional client services with a fresh and innovative approach to handling the most important events in the country. Boasting over 9 million choices from an unparalleled range of inventory that includes exclusive furniture, china, specialty linens, lighting, heating, flooring, tenting and more, Classic Party Rentals creates events that define the most remarkable moments in time. For more information, please visit http://www.ClassicPartyRentals.com.